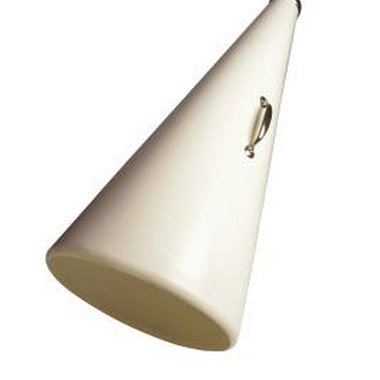 Watching the 1978 classic film "Grease" is a rite of passage for many young girls. Its appeal lies in its themes of female friendship, music, dancing and, of course, high school angst. The musical's colorful settings include a drive-in movie theater, a high school dance, a malt shop and a school carnival, which offer inspiration for those looking to find props for a Grease-themed party.
Pink Ladies
Early in the movie, the audience is introduced to the Pink Ladies, an exclusive girls club with a penchant for pink accessories. Homemade pink ladies' accessories could include pink squares of fabric to be tied around ponytails in the typical 1950s fashion and also pink poodles cut out of fabric to be pinned to clothing, like those worn on poodle skirts. The pink ladies also wore their emblem on the backs of their jackets, which can be achieved by cutting the letters out of pink felt.
Rydell High
Many of the scenes in "Grease" take place within the walls of Rydell High School or at Rydell High-sponsored events. A homemade party banner made of either cloth or paper with "Rydell High School" written in red varsity font will evoke the atmosphere of school spirit portrayed in these scenes. Similar decorations could include a cheerleader's pom-poms made from colored garbage bags that have been folded and cut halfway or megaphones made out of stiff paper, such as the ones used in the pep rally scene.
Senior Carnival/ Frosty Palace
Two of the most colorful sets in "Grease" that could lend inspiration to a party are Frosty Palace, a typical 1950s malt shop, and the end of the year senior's carnival for Rydell High students. Both feature refreshments that double as decorative items, such as malted milk shakes, popcorn and large drums of brightly colored cotton candy. The carnival scene also features clusters of balloons and streamers, which could easily be replicated for a house party.
Sleepover Scene
Because girls enjoy sleepover parties, the sleepover scene in "Grease" makes a great theme for decorations. In "Grease" the sleepover is held at Frenchy's house and her bedroom is feminine in the extreme. To get the same look, decorate the walls with posters of movie stars and a red Rydell High school flag. Robes and hair handkerchiefs should be on hand and also the "Grease" soundtrack to complete the atmosphere.
Photo Credits
Comstock/Comstock/Getty Images