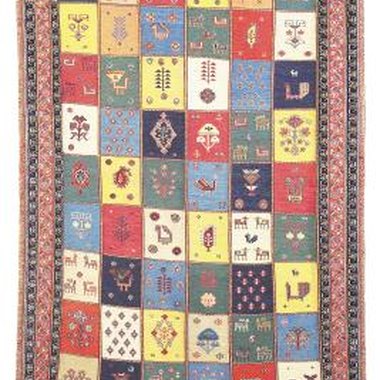 "Granny quilts" is the name quilting writer Darlene Zimmerman coined to designate the style of quilting that was prevalent in the United States during the Great Depression. After World War I, American dye makers developed new brighter and more colorfast dyes, and quilt makers had access to inspiring fabrics for the first time. Also, magazines and newspapers published new, more challenging quilt patterns. American women were inspired, and the result was a flowering of American quilting during the dark days of the Great Depression.
Color Schemes
If you want to make a "granny quilt," choose fabrics that are light in color, and clear and bright. A pastel color scheme suits the period. Depression-era quilters rejected the darker shades of 19th century quilts. Some quilt fabric retailers sell reproduction fabrics that look like vintage 1930s fabrics. Quilters in that era also got a lot of their fabric from brightly printed feed and flour sacks. Sometimes these sacks were made into clothing or aprons before they became quilt pieces, but they eventually found their way into quilts. Look through your own scrap bag to see if you have any vintage-looking pastel, cheery fabrics.
New Patterns of the 1930s
Quilters of the "granny quilt" era sometimes made simple nine-patch quilts and the like, but they also reveled in the newer, more complicated piecing that was required by patterns such as Double Wedding Ring, Dresden Plate and Grandmother's Flower Garden. These patterns were published by the magazines and newspapers of the day, and they made good use of tiny scraps of left-over dress-making fabric or feed and flour sacks. These patterns required more advanced cutting and piecing skills than the older, simpler patterns.
Applique
Some of the newer 1930s patterns were applique patterns such as Sunbonnet Sue and Flower Basket. These blocks are not as efficient users of scraps as the completely pieced blocks, but they provide a lot of scope for innovation, story-telling, and creativity. Some modern quilters, such as Nancy Mahoney, have developed new versions of these inspiring patterns. Use your scraps to create many different kinds of adventures for Sunbonnet Sue and her male friend, sometimes called Overall Sam, or applique a whole year's worth of flower bouquets in the tradition of Flower Basket quilts.
Quilting the Top
After the many hours of piecing your granny quilt top, you will need to put it in a frame and quilt the layers together: the top, the batting and the backing. In the 1930s women gathered together to do this work at quilting "bees," as the frame took up a lot of space in the room, and the sooner the quilt could be finished, the better. You can often find a quilter's group in your community that still quilts together. The senior center in many towns has an active quilting group. Quilts in the 1930s were hand-quilted rather than quilted by machine as many modern quilts are. The patterns that the stitches traveled could be simple arcs, or they could describe elaborate pictures in the plain white areas of the quilt.
References
"Granny Quilts: Vintage Quilts of the 1930s Made New for Today"; Darlene Zimmerman; 2002
"Granny Quilt Decor"; Darlene Zimmerman; 2004
Photo Credits
Hemera Technologies/PhotoObjects.net/Getty Images