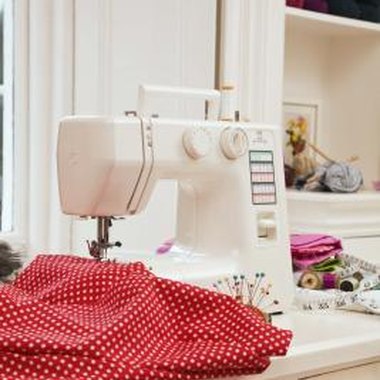 Homemade gifts can be meaningful to both the giver and recipient of the item. Making your own gift offers a way to customize or add a personal touch to an occasion. You also have the potential to save money by making something yourself. If you have access to a sewing machine, there are many possibilities for thoughtful items that are functional, personal and fun.
Bags and Cases
These days, almost everyone owns at least one electronic device, whether it's a digital camera, MP3 player, video player, tablet computer, cellular phone or laptop computer. Cases or bags to hold a gadget make great gifts and can be sewn fairly quickly at minimal cost. Some companies such as Simplicity make patterns which include several different case options such as a camera case, messenger bag, music player case and tote bag. In addition, you can make the item in the person's favorite color or colors or fabric pattern.
Clothing
Clothes are fun to make using a sewing machine and also make appropriate gifts. Numerous patterns abound for making clothes for men and women, adults or children. You could make a unique baby outfit as a gift for an expectant mother, or a special occasion dress for a teenage girl to wear to her first formal dance. You can also use patterns to make clothes in the latest fashion. New patterns are introduced yearly by the major companies such as Simplicity, McCall's and Vogue Patterns. It's fun to customize such items because you can add personal touches and embellishments that you may not find on store bought clothes.
Home Decor
Perhaps the occasion is someone moving into a new home and you'd like to make her a homemade housewarming gift. Your sewing machine can be used to make numerous home decor items such as pillows, sofa slip covers, curtains, appliance covers and kitchen necessities such as pot holders or oven mitts. If you notice a particular color scheme that the person may be using, you can make your item in coordinating colors.
Other Gifts for Kids
You can make other cute gifts for kids using your sewing machine. Younger children might like a homemade stuffed animal such as a teddy bear or other favorite animal. Also, you can make clothing outfits for a child's favorite doll. For special occasions such as Halloween, there are many patterns to make a child a wonderful Halloween costume with personal touches.
Photo Credits
Jupiterimages/Polka Dot/Getty Images