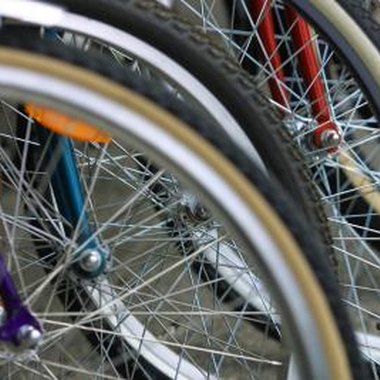 A four-wheel bicycle offers an environmentally green mode of transport, much like the traditional two-wheel bicycle, but with added stability and the option to add extra seating, cargo areas or a canopy. Four-wheel bicycles are not yet common in bike shops or department stores, though plans for different types are available on the Internet for those interested in making their own homemade vehicle. The do-it-yourselfer has different options for customizing a homemade four-wheel bike to fit personal needs, suitable for a wide array of uses and for different experience levels with bike customization.
Four-Wheel Pedal Car
Create a single-seat pedal bike for single person use by repurposing parts from two normal bicycles. Tools needed will include a power drill and sander, a pop-rivet gun, a builder's square and a yard or meter stick, among other items. Customize the wheel size to preference, and the track can vary from 37 to 50 inches, with a 57-inch wheelbase. A pedal frame from a regular bike powers the four-wheel bike accessed from a single, centered chair-style seat.
Coaster Four-Wheel Bike Car
A four-wheeled bike car that can carry two passengers and some cargo offers diverse options for transport, particularly in small neighborhoods. With a chair-height bench seat accessible from both sides of the vehicle and an open cargo area in the rear, the vehicle is able to carry up to 200 pounds, or as much as the pedal-power can tow, from fishing gear to groceries. A removable vinyl top gives some protection against inclement weather. Tools required for construction include a power drill, handsaw to cut PVC, hand tools, heat and glue guns. Use parts from two salvaged bicycles, including 16-inch and 20-inch wheels and a five-speed bike transmission.
Roadster Four-Wheel Bike Car
When you prefer a custom-made vehicle than one made from salvage, create a roadster style four-wheel bike from aluminum and stainless steel, a custom-built wooden seat as well as bike parts such as wheels and pedals. The stability from stainless steel rods and the sophisticated braking system adds to the safety of this homemade four-wheel bike. Using custom-created parts instead of salvaged bike parts allows you to customize the length, width and carrying capacity of the roaster to suit personal needs.
The Granny Bike
Typically, bicycles built for two have two wheels and the riders sit in line, one in front of the other. On a "Granny" bike, however, the two bicycles have been welded together to form a four-wheeled side-by-side bike that is particularly suited to elderly riders who may have stability issues on two-wheeled vehicles. With the proper welding tool, purchase conversion kits to turn any two bicycles into a single four-wheeled Granny bike.
Photo Credits
Photos.com/Photos.com/Getty Images