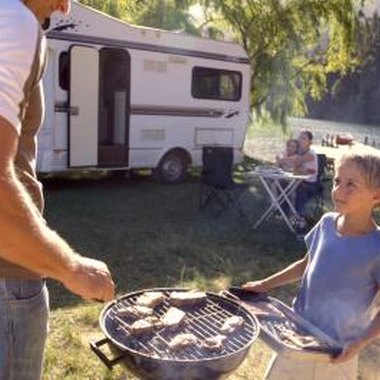 Cooking while camping can be a fun and fulfilling activity, but it can also require a lot of awkward hauling and preparation. Commercially available folding camp kitchens help aid this problem by providing a portable, organized kitchen space for your campsite. Alternatively, a homemade folding camp kitchen can be made to your own personal specifications and budget.
What Is a Folding Camp Kitchen?
Commercially manufactured folding camp kitchens generally consist of a metal table with extra hooks and bars for hanging your utensils and lantern. Some may have different levels of surface area for food storage and prep. Some more-advanced folding portable camp kitchens are a combination enclosed "chuck box" and table. All of your kitchen needs, including cook top, are encased in the box, which is attached to a folding table or folding legs to create a complete workstation.
Your Folding Camp Kitchen
You'll want to think about what you need and want out of your own folding camp kitchen. Whether you are embarking on this DIY project to save money or to make sure to have exactly what you want and need out of a folding camp kitchen will determine what you need to complete the project.
Materials
A simple folding camp kitchen could be constructed from a small folding table (wood or metal) with several hooks attached to the sides. If you plan to build a box or would like a secondary surface, you will need building materials including plywood, wood glue and screws. A large bowl that works as a kitchen sink can be fitted into a pre-cut hole in the table's surface for easier use.
Portability
The most important element in a folding camp kitchen is portability. Whether you'll be using it just for car camping or hiking in the wilderness with it, you'll want something that is reasonably sized and light enough to carry. Measuring the cargo area of your vehicle and testing the carry weight of the table and other elements that will make up for your folding kitchen will help you plan for portability.
Photo Credits
Pixland/Pixland/Getty Images