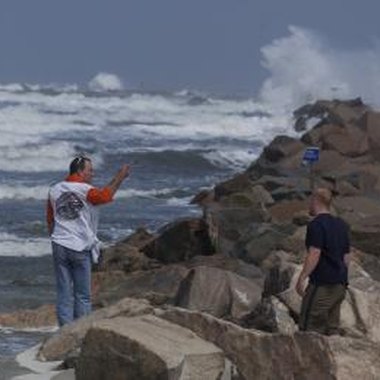 Jetties, man-made walls of stone that jut out into the ocean to protect channels and passes, are prime habitat for hauling in big game fish of many species. Fishing these structures requires skill, tenacity, luck and the right equipment. Jetty carts give fishermen the ability to haul the requisite gear out the length of often slippery jetties. Commercially produced jetty carts are available for purchase, but the determined do-it-yourselfer can whip up a functional homemade jetty cart himself.
The Modified Radio Flyer
That staple of childhood fun, the little red wagon, can be put to serious jetty fishing work with a few homemade modifications. Robert J. Goldstein, author of "Coastal Fishing in the Carolinas: from Surf, Pier, and Jetty," mentions seeing these wagons used a spear carts for hauling rods and bait down wooden piers to fish. To modify one of these wagons for jetty fishing requires, first and foremost, upgrading the wagon's little plastic wheels to larger, rubber wheels for rolling over the uneven and slippery terrain of a jetty. By welding tubular rod holders around the sides of the wagon a jetty fisherman can haul multiple rods, bait buckets, casting nets and refreshments out to his favorite jetty fishing spot.
The Dolly
A two-wheeled cargo dolly makes a great jetty dolly according to Alamo Flysfishers, a Texas-based fly-fishing group that makes regular jetty fishing outings. The two-wheeled setup of a cargo dolly makes for easier navigation of uneven and jutting blocks of granite that make up most jetties. Lash a cooler with drinks, snacks and ice to the bottom of the dolly and pile the gear on from there. Rope or twine is recommended for holding things in place rather than bungee cords, because the uneven nature of the terrain may mean that your fishing gear will slide out of place if secured with bungees.
The Custom Rig
For the serious jetty fisherman with access to welding materials and a little time on his hands a custom designed, heavy-duty jetty rig might be just the trick to hauling in a mess of fish. Starting with a wide, rectangular aluminum base with four, 10-inch pneumatic wheels -- as from a heavy-duty cargo dolly -- the fisherman is limited only by his creativity in what he'd like to add to his cart. Rod holders are a must and adding an additional flat, cutting surface at about waist height will allow him to cut bait or clean freshly caught fish while still out on the rocks. A rig like this, with room for multiple bait buckets and coolers, will be the envy of the jetties.
The No-cart Setup
The purpose of a jetty cart is to haul tackle and gear and keep it in a safe, such as above water, while fishing. For some who want to get out and fish the very tip of a jetty cart makes sense, but carts can be unwieldy and heavy. For a group of folks fishing in the same area, divvying up the gear and hauling it out by hand along with a folding table works equally as well and avoids the hassle of having navigate a cart around uneven terrain. When the table is set up, the fishermen can move around fishing different areas nearby and return to the table to get more bait, clean a fish or grab a drink. Also, the folding table can be moved along the jetty as the group goes further down in search of a trophy fish.
Photo Credits
Stephen Morton/Getty Images News/Getty Images