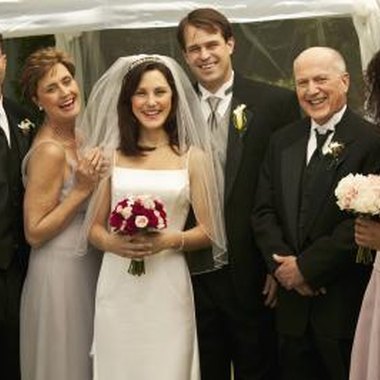 A couples' bridal, or wedding, shower is a party hosted for both the bride and the groom. While many bridal showers involve only women, a couples' shower involves both male and female guests. Making homemade invitations for your couples' bridal shower is a great way to save money and add a personal touch. When making your homemade invitations, it is important to choose a theme or design that suits both the bride and the groom.
Recipe Card Invitations
If the future bride and groom both enjoy cooking, make recipe card invitations for your couples' bridal shower. In an idea suggested on the Younique Wedding Ideas website, simply take blank recipe cards and add a title, such as "John and Jane's Wedding Shower," across the top. This represents the name of the recipe as well as lets guests know that this bridal shower is for both the bride and the groom. Write the rest of the bridal shower information, such as the time, date and location, in the form of a recipe.
Champagne Flute Invitations
Get creative and attach the information for your couples' bridal shower, written on an index card or section of sturdy paper, to a small, plastic champagne flute. Alternatively, fill the champagne flute with wide confetti with the bridal shower information written on small sections of paper. Don't use too small of paper, or vital shower information may be lost. Mail these unisex bridal shower invitation to your guests in cardboard tubes. These invitations are simple to make but will impress your guests.
Photograph Invitations
The Unique Bridal Shower Ideas website suggests using photographs to make homemade bridal shower invitations. For a couples' shower, choose a sentimental photograph such as a portrait of the bride and groom and print it onto a piece of card stock. Hand-write the shower details on the back of the card stock or print them onto a piece of vellum, which you can then lay over the card stock so that the details appear on top of the photograph. Attach the vellum to the card stock using hole punches and matching lengths of ribbon.
Western Invitations
Choose a fun theme for your couples' bridal shower that suits both men and women, such as a western cookout, and make homemade invitations to match. The Younique Wedding Ideas website suggests folding a sheet of brown card stock, or construction paper, in half and cutting out the shape of a small cowboy hat. Leave a seam at the top of the hat, so that guests can open the invitation like a card. Attach small details, such as strips of fake leather, to the cowboy hat and write the bridal shower details inside.
Photo Credits
Comstock Images/Comstock/Getty Images