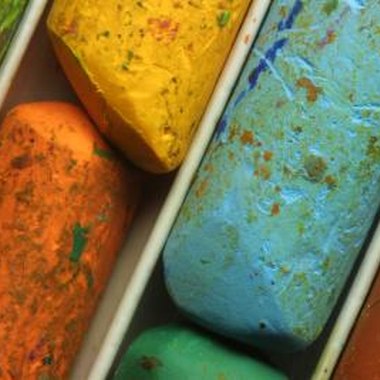 Wondering what to do with all of those tiny, broken crayon pieces that can no longer easily be picked up by small fingers? Melt them into Christmas-themed shapes and hang for homemade decorations your kids will look upon with pride. Kids will love to help by engaging in normally forbidden behavior like breaking, shredding or grating crayons. You can even use crayon ornaments again on coloring pages, producing a rainbow of color with each stroke.
Items you will need
Crayons

Silicon molds

Skewer

Ribbon or string

Grater

Waxed paper

Scissors
Step

1
Peel and discard crayon wrappers.
Step

2
Break crayons into small pieces, about 1- to 1/2-inches or grate crayons with a grater onto a piece of wax paper. The crayon shavings will melt faster than the crayon pieces, but will produce the same results.
Step

3
Place crayons or shavings into molds. Choose a color palette based on personal preferences. Fill molds to within 1/8-inch of the top.
Step

4
Preheat oven and bake at 300 degrees for about 10 minutes. To melt the crayons without using an oven, place shavings in small piles between two sheets of waxed paper and press firmly with a warm iron.
Step

5
Stir each mold with a skewer or toothpick every 2 to 3 minutes until fully melted. Shavings do not need to be stirred.
Step

6
Pull molds from oven and place on a wire rack to cool for about 5 to 10 minutes. Allow the wax to set, but not harden completely.
Step

7
Poke holes in the top of each mold with a skewer. Make sure the hole is big enough for the ribbon to fit through.
Step

8
Cool completely, then remove molds from trays. If using the waxed paper method, peel the top layer of paper off, remove the wax from the bottom piece and cut into any shape using scissors.
Step

9
Cut the ribbon into 6-inch pieces then thread through each hole using a sewing needle to guide it through the hole.
Step

10
Tie the ends of the ribbon with a secure knot.
Tips & Warnings
Ensure proper adult supervision during melting and grating phases of the project. Children should never use an oven or iron unattended.
Resources
Photo Credits
Photos.com/Photos.com/Getty Images