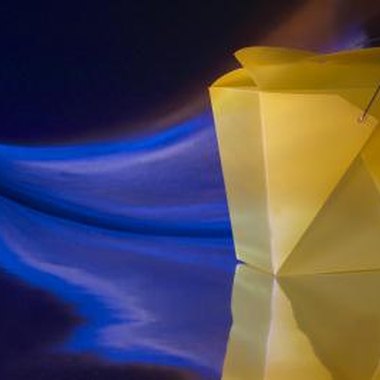 Highlight a Chinese-themed party with homemade party favors. Make a variety of Chinese party favors in advance and then have the guests make some of their own. This way, you can provide a personal creative touch to your party and encourage the creativity of your guests as part of the activities. There are many ideas for Chinese party favors and most of them are fairly easy to make.
Fans
Paint designs or pictures on plain white paper and then fold it, accordion style, into half-inch strips. Wrap one end of the folded strip with a silky ribbon and then spread out the top into a fan. You can also use scrapbook papers with a Chinese pattern on them.
Personalized Pots of Bamboo
Buy small clay pots and paint various Chinese characters on the sides. Choose characters that represent something specific about each guest, such as "calm," "smart," "inspiring" and "creative." You can find the characters online and then copy them onto your pots. Fill the pots with tiny bamboo plants.
Fortunes
Adapt the Chinese fortune cookie idea by writing personalized fortunes on small pieces of colored paper and then fold them into tiny squares. Poke one corner of the fortune square into the tops of cupcakes. Add small Chinese umbrella favors to the cupcake tops for a complete look.
Floating Lights
Make lamp shades out of wax paper and glue them to the base of tea lite candles. Place one candle in a small fish bowl filled with water. Write messages on the wax paper or cut small designs into the paper to make your floating lights even more decorative.
Personalized Chopsticks
Buy disposable chopsticks and paint designs on the ends. An alternative idea is to cover the handle ends with origami paper. Then tie each set together with a silk ribbon.
Decorative Take-Out Boxes
Buy Chinese take-out boxes and fill them with homemade treats. Tie a decorative ribbon around the handles. Cover the boxes with origami paper or write the guests' names in Chinese characters on the sides.
References
Photo Credits
Hemera Technologies/AbleStock.com/Getty Images