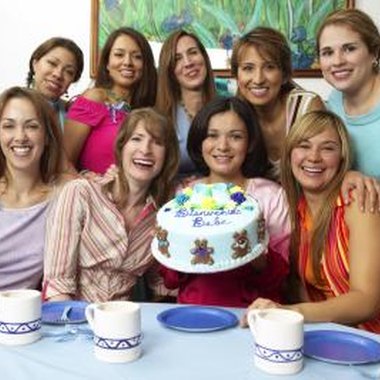 When planning a baby shower, the first step is to come up with a theme. Make sure it is something you have the resources to do and that the mommy-to-be will like. Once you choose your theme, you can plan and make the invitations, decorations, games, party favors and food around this central theme. Baby showers are given for couples as well as just the mom.
Initial Shower
Organize the baby shower you are hosting around the baby's first initial. If the baby has not been named yet, use the initial 'P' to stand for pink for a girl or 'B' to stand for blue for a boy. If the sex of the baby is unknown, use the first initial of the mother's last name. Make everything for the shower revolve around this initial. Ask the guests to wear something that begins with the chosen initial, such as paisley for 'P' or boots for 'B'. Make decorations that start with the initial, like inserting pink drink parasols in a pineapple for a centerpiece and making mini pizzas from layered biscuit section crusts with a tomato, cheese and onion sauce.. Create a sheet for an 'I Spy' game centered on the party's initial. Instruct guests to write down everything they see that begins with the letter 'B'. The one with the most items on their list wins a prize. Use monogrammed cards as gift invitations with the baby's special letter.
Pamper Mommy Party
Throw a baby shower with the purpose of treating the mommy-to-be. Plan to have a cosmetic representative attend and ask her to give a free makeover to the guest of honor. On the invitation, suggest attendees bring gifts that will pamper the new mom.Satin pajamas, perfume, chocolates, bubble bath and lavender goat's milk soap. Make a decadent chocolate cake, sparkling cider instead of champagne for the mommy-to-be and fancy finger sandwiches and petit fours. For a little empathetic fun, ask the quests to dress as very pregnant women, giving a prize to the most creative costume. Make you own party favors by stitching satin drawstring bags and filling them with take home luxuries such as miniature chocolates, bath soap petals and miniature lotion bottles.
Baby's First Christmas Shower
For this shower invitation, design a card front that reads "Baby's First Christmas" with an ornament graphic to embellish it. Inside print the wording, "A baby is a Christmas wish come true." Ask invitees to bring a homemade Christmas ornament for the baby. Serve Christmas cookies, eggnog, turkey finger sandwiches and baby pecan pies. Decorate with your best Christmas tablecloth and dishes.
Couples' Golf Shower
Reserve a room at the local golf club. Make invitations shaped and decorated as golf shirts and print inside, "Come hit the links to welcome the new little one!" Decorate tables with golf ball-shaped mugs you fill with daisies. Place golf balls and tees on each table. Serve baby back ribs, hot wings, 'slices' of lemon meringue pie and tea or adult beverages to drink. Reserve a tee time for guests who wish to play nine holes and let the rest stay and watch the mommy-to-be open gifts.
References
"Throwing the Perfect Party"; Jill Williams Grover; 2005
"Great Parties on Small Budgets"; Diane Warner; 2002
Resources
"Baby Showers"; Amy Elliott; 2008
Photo Credits
Creatas/Creatas/Getty Images