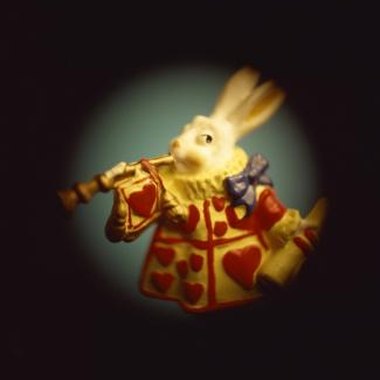 Let your imagination run wild when planning a homemade "Alice in Wonderland" party for your daughter. Making homemade invitations, decorations and other party accessories will keep the budget of the party down to a minimum. Make an easy, homemade costume for her to wear at the party using a solid blue dress with a white apron and black patent shoes.
Invitations
Use gold card stock to make a golden stopwatch party invitation. Cut a stopwatch shape out of the card stock and draw red hands pointing to the age of the birthday child. Write the party details on the back of the stopwatch and mail to all party guests. For an easy idea, print pictures of Alice and a white rabbit from the Internet. Write the party details on the back of the sheet of paper. You can also use Alice in Wonderland coloring pages to make the invitation. Have the child color each page and write the party details on the side of the picture.
Decorations
Decorate the party area with any "Alice in Wonderland" pictures, posters, toys and plush animals your child may have. Place the items all around the party area and use the larger items as balloon centerpieces for the party tables. Other ideas include printing pictures from the Internet of scenes from the movie and hanging them on the walls. Use light blue sheets or tablecloths for the party tables. Other items to scatter around the party area include decks of cards, plastic costume jewelry, mismatched tea sets and silk flowers.
Cake Ideas
Make a cake in the shape of a heart and cover it with red frosting to remind of the "Queen of Hearts." You can also make cupcakes and use an icing pen to write the words "Eat Me" on each cupcake. For another idea, bake a plain cake and cover it with pink frosting like the cake in the original "Alice in Wonderland."
Games
Plan a few games for the children with a few items you might have around the house. Put a twist on classic games by playing a game of Pin the Tail on the Rabbit or Hot Rabbit. Hang a large picture or poster of a rabbit on the wall and have the party guests try to pin the tail on the rabbit. Instead of Hot Potato, the children can pass a plush rabbit around the circle. The last player remaining in the games wins the rabbit to take home as a memento of the party.
Photo Credits
Jupiterimages/Comstock/Getty Images