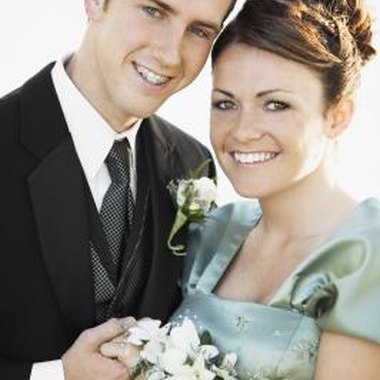 Homecoming is an annual tradition at many American academic institutions. Homecoming usually consists of the big game -- often the football's team last game of the season -- followed by a dance sponsored by the school, where a Homecoming King and Queen can be crowned. Like prom, homecoming is a cause for celebration, and many students look forward to homecoming as the highlight of the term before winter break. Keep homecoming fun for everyone with a few key tips.
Attire
The homecoming dance is an event that calls for formal dress. For women, this means an evening dress or gown that hits at or below the knees; for men, it means a suit or tuxedo. Since homecoming is in the fall, keep your outfit color scheme to seasonally appropriate hues -- a black or navy suit is best, and dresses in eggplant, burgundy or navy will add variety to the basic black of most evening and cocktail dresses. Shorter hem lengths are more common at prom than at homecoming, which is a more conservative event. Many girls get their hair, makeup and nails professionally done for homecoming, but don't feel pressured if that's not in your budget -- clean and neat is the only special style you need.
Transportation
Save the stretch Hummer for prom -- the homecoming dance reserves its fanfare for the (hopefully) winning team, and the dance is an opportunity to help celebrate the season's success. Getting a ride from your parents or your friend with a car are perfectly acceptable ways to get to the homecoming dance.
Attendance
If you have a date for the homecoming dance, great! If not, don't sweat it. Dates are wholly optional for homecoming, just like with prom. It can be a lot of fun to go to homecoming with a group of your closest friends. Coupling up just because you feel the pressure will impact your night negatively, creating a stressful situation and pressure to be "on" when you could be relaxing and having the time of your life! Of course, if there's someone you'd like to ask to be your date, take a deep breath and just ask him or her -- "Would you like to go to homecoming with me?" If they say no, be mature and understanding -- don't beg or whine -- and tell them thanks, you'll see them later.
At the Dance
When the music's playing, the best way to ensure you'll have a good time is to actually dance. Plastering your back to the wall by the punch bowl makes for a long and boring night. Gather your friends in a group and get on the dance floor! Getting your groove on in a group will help you feel less self-conscious. Don't worry about not looking cool -- there are few things cooler than a confident person who's willing to let go once in a while. When a slow song comes on, ask someone to dance with you if you'd like -- otherwise, sit it out with your friends until the party music comes back on.
Attitude
Homecoming is cause for celebration, but it's not the biggest deal in the world, and it won't make or break your high school or college experience. If you don't want to go, don't go! If you do want to go, keep things in perspective and don't let yourself get caught up in arguments among friends or significant others. Be happy for the homecoming king and queen, whoever they are, even if you were also in the running -- nobody likes a sore loser. Keep an open mind and an open heart, and remember to have fun -- that way, you're sure to have a blast.
Photo Credits
Brand X Pictures/Brand X Pictures/Getty Images