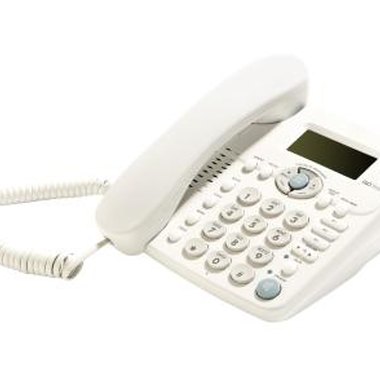 Broken Arrow is one of the fastest growing cities in the state of Oklahoma. According the 2010 Census, Broken Arrow grew by over 32 percent from 2000 to 2010. With 98,850 residents the city is the fourth largest in the state. There are a number of home phone service providers to residents of this vibrant and quickly expanding Tulsa-area suburb.
Cox Communications
Cox Communications is perhaps best known as Oklahoma's largest cable television provider. With the advent of high speed fiber, Cox has expanded services and now provides digital home service and high speed Internet over its cable infrastructure. Broken Arrow residents may order the Cox digital home phone service as part of a package deal with Internet and cable television or may order the individual Cox products. By bundling multiple products into one service, Broken Arrow residents drive down the price of each offering and experience an overall cost savings. Cox boasts of its commitment to the communities served by the company. According to Cox, over $16 billion was invested in expanding infrastructure during the time period from 1996 to 2011. Cox Communications 11811 East 51st Street Tulsa, OK 74146-6000 918-286-7260 Cox.com
AT&T;
AT&T;, formally Southwestern Bell, is Oklahoma's legacy home service phone provider. The company has expanded its product offerings to include not only home phone service but DSL high speed Internet and video through its AT&T; U-Verse offering. Broken Arrow residents can order these services as stand-alone products or as part of a bundled offering. AT&T; 1200 E. Hillside Drive Broken Arrow, OK 74012 918-355-2542
Vonage
Vonage home phone service is provided through existing cable or DSL high speed Internet connections. The Vonage home phone service features low monthly rates. This low cost may come with certain liabilities. Vonage users are warned that the system may not be compatible with some 911 emergency services and certain alarm systems. Vonage home phone service is available to any user, including Broken Arrow residents, as long as the resident provides the high speed Internet access. Vonage 23 Main Street Holmdel, New Jersey 07733-2136 723-528-2600 Vonage.com
Speed Test
The State of Oklahoma allows Broken Arrow residents to speed test their Internet connection. This service is located on the state's website and enables Internet users to test their existing connection to determine if the line is suitable for voice-over-IP home phone services such as the previously referenced Vonage service.
Photo Credits
Thomas Northcut/Photodisc/Getty Images