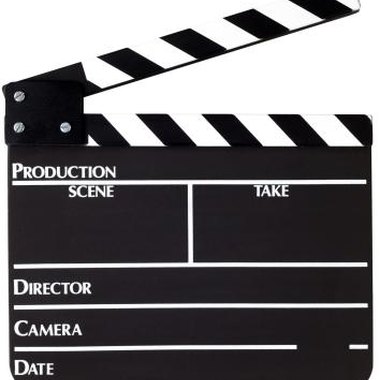 A Hollywood-style wedding is a fun way express a love of film or just the glamor and luxury associated with the lifestyles of the rich and famous. Whether the bride and groom want to pay homage to vintage films or create their own versions of their favorites, there are interesting ways to give guests the information they require for the special day. The wording for the invitations should follow the tone of the wedding.
Classic Wording
A Hollywood-style wedding can be showcased throughout the special day as the theme behind all decor, attire and music selections. The wording for the wedding invitations can remain traditional if desired by the bride and groom. The wording can express to the guests that the couple requests their presence for the special day in a formal or informal manner, but in a fashion that is recognized and popular. This format will be preferred by the couple's parents if their involvement is heavy in the planning process. For example, if the parents are hosting the event, traditional wording may be preferred and this will not compromise the theme in any way.
Film Presentation
A very fun and cool way to word the wedding invitations for a Hollywood style ceremony and reception is through the presentation of a film. The wedding invitations should be designed to resemble old-fashioned movie theater tickets. The wording will be in line with this style as an admission to the event, featuring "The Wedding of James & Theresa" or something of that nature. The date, time and venue information should also be included below the title. The guests will immediately understand the theme through this different type of invitation and will appreciate the effort.
Film Quotations
Hollywood has produced an immense number of films, many of which include some beautiful lines about love and marriage. The bride and groom should choose a few lines from either their favorites or from films that embody the love they feel for one another. The films can be modern or classic; the choice depends entirely on the couple. Word the invitation with these borrowed lines and integrate the pertinent information amongst these words. The guests may be able to recognize them and look forward to a classic Hollywood-style wedding.
Hollywood Poses
The wording for the wedding invitation must be clear but at the same time, the presentation can be somewhat abstract. Take a classic Hollywood-style picture of the bride and groom, such as a black and white photograph with them locked in an intimate embrace or him dipping her in a dance. Show the edges of a film strip on both sides of the photograph and line the bottom with the pertinent information. The guests will be blown away by the gorgeous picture and admire the effort, but will also receive the information needed to attend the big day.
Photo Credits
Brand X Pictures/Brand X Pictures/Getty Images