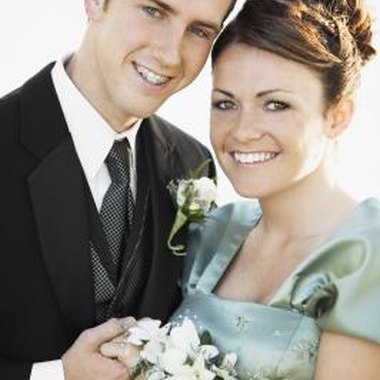 After years of dreaming about prom, the most exciting night of high school has finally arrived. Make this event even more glamorous by giving it a Hollywood theme. With such impressive inspiration, every high school prom-goer will feel like a celebrity on their special evening.
Favorite Films
Hollywood is the epicenter for the film industry. Celebrate the city's important role in the movies by having students vote for their favorite films and using the results as inspiration for the prom. For instance, for a fairy tale Hollywood prom, decorate the venue with stone walls and turrets, ornate centerpieces of roses and white string lights to mimic the stars. Invite female attendants to dress up like their favorite princess from a movie. Along with popular music, be sure to squeeze in some tunes from fairy tale movies, such as "Beauty and the Beast" or "Cinderella."
Movie Premiere
A Hollywood movie premiere theme is bound to be a memorable event for high school students. Students feel like celebrities as they walk down a luscious red carpet toward the dance. For the full effect, invite proud parents, friends and photographers to snap photographs of the students in their finery as they strut their stuff. Inside, mimic the Hollywood Walk of Fame by adorning the floor in stars labeled with students' names. With some impressive cuisine and a live band, proms across the country will seem like they're taking place in Hollywood.
Fun in the Sun
Along with its important role in the film industry, Hollywood is also renowned for its pleasant weather and sunny skies. Leave behind the showiness of the movies in favor of a laid-back, California-style prom. Jazz up the venue in playful colors, tropical bouquets and beach-appropriate decor, like centerpieces with shells and sand. Surfing music or simple guitar solos provide good background music that is easy on the ears and sets the stage for a mellow evening.
Award Night
Award ceremonies, such as the Oscars, are one of the most significant evenings in Hollywood and provide a wonderful theme for prom, as well. Roll out the red carpet, then lead prom-goers to tables decked out in elegant table cloths, dazzling centerpieces and extravagant decor, such as trees wrapped in white string lights or chandeliers. Along with the traditional crowns for the prom king and queens, hand out special Oscar-like awards and let the recipients give acceptance speeches if they'd like.
Photo Credits
Brand X Pictures/Brand X Pictures/Getty Images