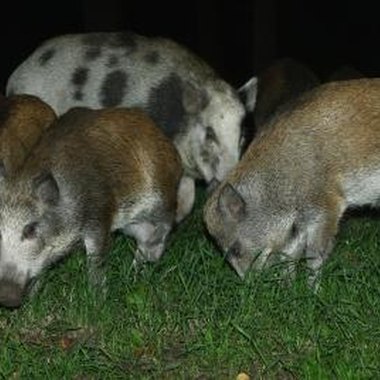 The only way to hunt hogs in Utah is by arranging a hunting tour with a private company. Wild hogs are an invasive species in Utah and, therefore, are not allowed in the state to prevent the spread of disease. A number of companies offer hunting expeditions by releasing hogs purchased at auction that have been tested for diseases.
Garrett Hunting Services
Located in Castle Dale, Garrett Hunting Services allows you to hunt for hogs throughout the year. A hunting license is unnecessary at this ranch. At the time of publication, hunting packages start at $350 for both meat hogs weighing under 450 lbs. and trophy hogs weighing more than 500 lbs. Garrett Hunting requires a 50 percent deposit. All hunts come with a money-back guarantee. The company will refund your money if you don't kill a hog that day. There is a butcher two miles away who will butcher your hog and package the meat for 40 cents per pound.
Riverbend Trophy Hunts
Corinne Riverbend Hunts take place in northern Utah, about one hour from Salt Lake City. The private ranch does not require hunting licenses; hunts occur year-round. The company provides day and overnight hunting expeditions; it provides electricity for campers. At the time of publication, prices begin at $375 per hog for animals weighing 300 to 500 lbs. and larger hogs cost $475. All hunting trips require a $200 deposit and include a money-back guarantee, ensuring that if you don't shoot a hog, you don't pay. All hunts include a guide who guts and hauls your hog for you. Riverbend Hunts has an on-site butcher available for meat processing.
Western Lands Outfitters
Located in Ogden, Utah, Western Lands Outfitters specialize in mule deer hunts in Utah, Wyoming and Texas. The company is privately owned by two experienced hunters who turned their love of hunting into a year-round business. Western Lands Outfitters owns Williams Ranch, a private hunting ranch in Texas, where it arranges hog-hunting expeditions. Hunting packages include your meals, lodging and butchering, but you pay for your transportation to and from its Texas ranch. As the hunting expedition travels to its Texas ranch, you need a Texas hunting license, which costs $45 at the time of publication. After shooting a hog, your guide handles gutting and hauling. All-terrain vehicles get you to and from the hunting sites. Hog hunting prices depend on the number of people in your party. The more hunters you include, the better your group rate.
Safety Tips for Utah Hog Hunting
Although Utah does everything possible to prevent the spread of disease by making wild hogs illegal, it is important to know the warning signs for brucellosis. After eating the hog, if you experience chills, fatigue, fever, headache, joint pain or muscle pain, contact your doctor. Make sure your doctor knows you recently have eaten wild pig.
Resources
Photo Credits
Sean Gallup/Getty Images News/Getty Images