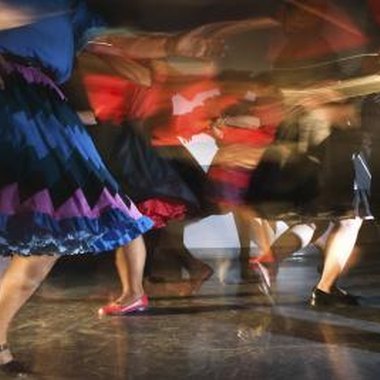 A hoedown is a square dance usually held in a rustic old barn or other venue with a country-western theme. Hosting a hoedown for middle schoolers is an effective way to teach the students about the square dance moves. Mandatory participation in the dances keeps them busy, prevents wallflowers and provides exercise.
Invitations
Decorate poster boards with pictures of cowboys, horses and square dancers in their brightly colored outfits. Send invitations home with the students encouraging them to wear appropriate Western-themed costumes. This adds a festive touch and a competitive spirit to the dance to see who can come up with the most authentic-looking costume. Provide prizes for the most creative and authentic outfits.
Decorations
Decorate the venue with pictures of cowboys roping cattle, "Wanted" posters, tied bandannas, lariats and other Western-themed objects. Make signs on the restroom doors that designate one for the cowgirls and one for the cowboys. Spread red-checked tablecloths on the tables to provide a country ambiance. Tie red and white helium balloons to horseshoes, stirrups, old-fashioned lanterns or other rustic-looking objects to create the centerpieces for each table. Provide inexpensive bandannas to the middle schoolers to wear as neckties, in their hair or to tuck halfway into a shirt or pants pocket. Another option is to provide sheriff badges or cowboy hats to inspire them to get into the mood.
Hoedown Food
Serve hamburgers, barbecue sandwiches, hot dogs or other inexpensive sandwiches at the hoedown. Chips and dip, coleslaw and baked beans are appropriate side dishes. Make fruit kabobs and cupcakes for the desserts. Provide plenty of punch, water bottles or soft drinks to the participants since the dancing will make them thirsty.
Music
Invest in CDs that have simple square dance instructions. Another option is to hire a caller with an exuberant and interesting patter to make the hoedown more authentic. Enlist the aid of parents or grandparents to help guide the middle schoolers in carefully listening to the caller's patter for the next set of directions. It is a wise idea to brush up on the types of steps in school during physical education classes to prepare the students for the event. Middle schoolers tend to be shy at events, therefore have plenty of old timers available to drag them out on the dance floor. Once the kids start to laugh at each other's antics, the timidity will dissolve and they may actually find themselves enjoying the old-fashioned party.
References
Photo Credits
Jupiterimages/Comstock/Getty Images