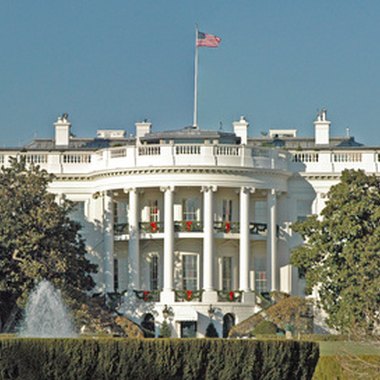 Washington, DC, might not be among the oldest cities in America, but as the nation's capital it has seen its share of historic events, and some of those events transpired in the corridors of the city's hotels. Other hotels are historic simply because of their age and withstanding the test of time, and in doing so help their guests imagine the Washington of the 19th century. In many ways, the historic hotels of Washington are a tourist attraction in and of themselves.
Hay-Adams Hotel
The Hay-Adams claim to being a historic hotel stems from it occupying the block that was the site of the homes of John Hay, one-time assistant to Abraham Lincoln, and Henry Adams, the grandson of John Qunicy Adams and great-grandson of John Adams. The hotel itself dates to 1928 and is something of a city landmark, with Fodor's ranking it as a "Fodor's choice." In terms of location, the hotel is on Lafayette Park across from the White House and across the street from St. John's Episcopal Church, usually referred to as the church of the presidents.
Morrison-Clark Hotel
The Morrison-Clark is historic because of the antique nature of the building: The hotel is situated in a pair of converted and conjoined Victorian houses dating to the mid-1860s. It is one of just a few hotels in the city listed on the National Register of Historic Places, and in the early 1900s it functioned as a military serviceman's club. Enhancing the historic feel of the hotel are the antique furnishings of the public rooms and the period reproductions used in the guest rooms.
Renaissance Mayflower Hotel
Almost immediately after it opened its doors, the Mayflower Hotel hosted the inaugural ball for President Calvin Coolidge. President Harry Truman lived in the Mayflower while the White House was undergoing renovations, and longtime FBI Director J. Edgar Hoover ate lunch at the Mayflower on an almost daily basis. Rated "very highly recommended" by Frommer's, every luxurious room features a marble foyer, marble bathroom. embroidered drapes and silk bedding.
Willard InterContinental
Located two blocks down the street from the White House, the Willard dates back to 1847, although the current building is from 1901. The guest rooms and public spaces reflect the elegance of those early 20th-century origins. The first ambassadors to the United States from Japan stayed here, and the hotel bar was the favorite watering hole of Ulysses S. Grant during his presidency. Frommer's gave the hotel its highest rating, "exceptional," while Fodor's praised its "superb service and a wealth of amenities."