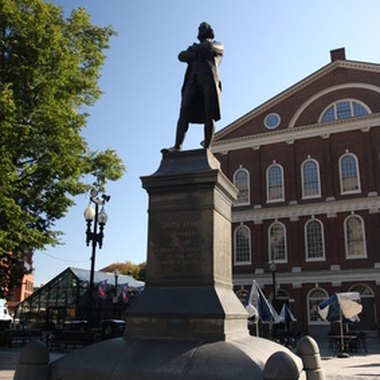 In 1630, Puritans founded Boston on Shawmut Peninsula, making the city one of the oldest cities in the US. Boston's Back Bay is the main locale of the historic hotels in Beantown, and most of them have made a point of maintaining a historical and cultural atmosphere.
The Lenox
The Lenox's history began in 1900 with Lucias Boomer and his ambition to build the grandest hotel in New England. He spent more than $1 million and eight months overseeing the building of the Lenox. The hotel was the tallest building in Boston at the time of its completion, and it has been a cherished hotel since. Numerous celebrities and movie sets have occupied the Lenox over the past century. Rooms in the Lenox adhere to an Old-World aesthetic, with high ceilings, soft colors and four-poster beds. The hotel has won multiple awards, largely for excellence in sustainability and eco-tourism.
Boston Park Plaza Hotel and Towers
The Boston Park Plaza Hotel and Towers is in the historic Back Bay of Boston. Built in 1925, the hotel was the tallest building in Boston at the time of its completion -- the entire endeavor cost more than $14 million. The hotel was the first in the world to open with radios installed in every guest room. The atmosphere at the Plaza slants to the edgy side, with chic, leather furniture and marble countertops. The hotel uses green technology to limit its carbon impact, including fluorescent lighting, waste conservation and water conservation.
Boston Omni Parker House Hotel
The Omni Parker House Hotel is the longest operating hotel in Boston -- standing on the corner of School and Tremont streets for more than 150 years. The hotel opened in 1855 as the Parker House, and it served as the home-away-from-home for many literary luminaries of the time, including Longfellow and Emerson. Today, the Omni Parker House Hotel is made up of more than 500 guest rooms and suites -- each elegantly furnished with polished wood and richly colored furniture -- and is home to distinguished Parker's Restaurant, where Boston cream pie and the Parker House roll have their origins.
The Fairmont Copley Plaza
Located in downtown Boston, the Fairmont Copley Plaza was built in 1912 and has housed nearly every president since its opening. The lobby -- called the Oval Room -- features a ceiling mural of a partly cloudy sky. Of the 383 rooms at the Fairmont Copley Plaza, seven are historically themed suites, including the John F. Kennedy Suite, Museum of Fine Arts Suite and Museum of Science Suite. Each of the 383 guest rooms at the historic hotel exhibits a unique design, but all speak to an elegant and courtly past. The Boston Magazine named the Oak Room, the hotel's on-site restaurant, the best steakhouse in Boston.