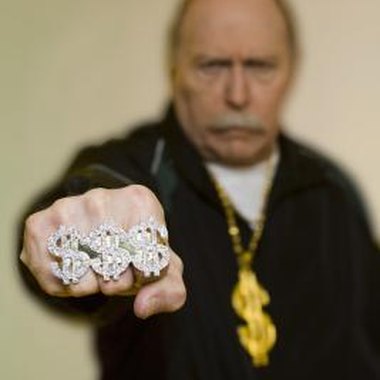 If you want to add some character to a jewelry party, forget the traditional jewelry products, and instead make it a hip-hop jewelry party. Hip-hop artists, rappers, actors and other people are often seen sporting the latest hip hop jewelry designs. You can bring these to friends by hosting a hip-hop jewelry party. It can make for a fun afternoon with friends as you get to see up close some of the latest products.
Items you will need
Invitations

Jewelry seller

Hip-hop music

Refreshments
Step

1
Pick a date and time that you think will work for the people you want to invite. Two or three hours in the afternoon usually works best.
Step

2
Check with a hip-hop jewelry seller to see if the time you've picked will work for him to come and show his products. If not, work with him to find a time that will work. If a seller is not available or you'd rather do it yourself, but don't own jewelry to sell, consider making a presentation using a laptop and a hip hop jewelry website. To find a hip-hop jewelry seller, contact jewelry stores in your area and see if they know of any hip-hop jewelry sellers. As well, search online for "hip-hop jewelry seller" along with typing in your city name. Hip-hop jewelry sellers are not as common as standard jewelry sellers, so you might have to lead the party yourself.
Step

3
Create and mail invitations. Invite people you think might like hip-hop jewelry. Add designs of hip-hop jewelry to give the invitation a look related to the theme of your party. Make it clear that the point of the party is to see hip-hop jewelry, but also mention that there will be refreshments, as well as if there will be other things. Be clear on the location and address, time of the party, and whether you require people to RSVP.
Step

4
Set the mood for your party by playing hip-hop music. Keep the music a reasonable volume to keep your guests comfortable.
Step

5
Show the hip-hop jewelry to your guests. If there are photos of people wearing the jewelry, such as photos of celebrities, be sure to show those too, as that can entice someone to buy the jewelry.
Step

6
Serve refreshments to keep your guests happy. If they're in a good mood, they'll be more likely to purchase hip-hop jewelry.
Step

7
Follow up with your guests after the party to see if they had a good time, and if they may be interested in any hip-hop jewelry, but didn't purchase any the day of the party. This can also be a way to gauge if there is any interest in future hip-hop jewelry parties.
Photo Credits
Jupiterimages/Creatas/Getty Images