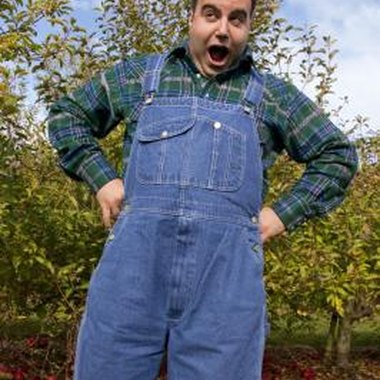 Throwing a hillbilly party is a welcome and unusual change from the ordinary themed parties to which people have become accustomed. Interpret this funny and quirky theme through your decorations, food and drink, invitations, music and party favors. And don't forget about the party games and activities.
Dress
A costume contest is always a riot. Invite folks to come dressed in costumes that feature or incorporate denim overalls, camo or hunting gear, big fake bushy beards and dirty jeans tucked into work boots. And don't forget the props: a banjo, straw hat, a can of chewing tobacco prominently displayed in a front pocket, fake bad teeth or missing teeth, beer cap earrings, a pack of smokes or a beer can. Men can stuff shirts to create beer bellies; women can stuff shirts and come to the party barefoot and pregnant.
Competitions
See who can chug a can of beer the fastest or, if it's a teen's party, a can of root beer. Pass out chunks and slices of watermelon for everyone to eat and instruct them to save the seeds; then have a seed-spitting contest. Have a wet T-shirt contest --- and make it extra funny by letting the men compete, not the women. Have a hillbilly haiku, belching or arm wrestling contest. Buy some fresh ears of corn at the supermarket or at a farmer's market and have a corn-shucking competition.
Harmony
Play some bluegrass music in the background at the party to set the mood. And have a hillbilly karaoke competition. See who can best belt out such songs as "Hillbilly Bone" by Blake Shelton, "Country Roads" by John Denver, "Your Cheatin' Heart" by Hank Williams Jr., "Honky Tonkin'" by Hank Williams, "Everybody's Had the Blues" by Merle Haggard, "Hillbilly Stomp" by Kid Rock, "Bootleg" by Creedence Clearwater, "You Never Even Called Me by My Name," by David Allen Coe and "Simple Man" by Lynyrd Skynyrd.
Potluck
Another contest idea --- and a clever way to feed a lot of people without you having to pay for it --- is a potluck contest. In your invitations, instruct party attendees to each bring one dish of the finest hillbilly cuisine, to be judged to see which is the crowd favorite. Such fare consists of hearty, home-cooked, country food such as fried chicken, chicken-fried steak, corn on the cob, black eyed peas, cornbread and berry cobbler with homemade ice cream. For beverages, provide the cheapest beer you can find or "moonshine punch": Kool-Aid with rum or vodka.
Photo Credits
Jupiterimages/liquidlibrary/Getty Images