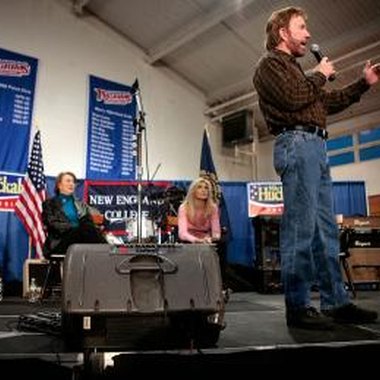 The truth about Chuck Norris has been obscured to a large extent by spurious claims made about the actor in the media, and especially on the Internet. One website even allows you to upload your own "facts" about Chuck and have "facts" printed on a T-shirt. The Chuck Norris phenomenon reminds us that we can't always trust everything we see or hear in the media.
Former Teacher
Norris was a former martial arts practitioner and also a martial arts teacher, according to his official website. He won several championships and is a six times unbeaten world professional karate champion in the middleweight division. As a teacher, Norris claims his student body consisted of TV game show host Bob Barker; the King's ex-wife, Priscilla Presley; singers and all-round entertainers Donnie and Marie Osmond and cool film icon Steve McQueen.
Awards
Norris has won many awards during his illustrious career. In 1998, Norris won the Epiphany award while working on action crime drama "Walker, Texas Ranger," which was judged the top Christian program. Norris also scooped the BMI Music Television Award for the show's theme song, "Eyes of a Ranger." For his contribution to the show, Norris is in the Texas Ranger Hall of Fame. Further, the actor is a commissioned officer of the law for Terrell, a city in Kaufman County, Texas. Norris has also won the Jewish Humanitarian Man of the Year Award.
Facts About Facts
A very amusing fact about Norris is that there are, according to one estimate, 600,000 "facts" on the Internet about him. He has become a little like Paul Bunyan, the mythological giant lumberjack -- a symbol of strength and power. The only difference is, of course, that Chuck Norris is a real person. Why the "factual" misinformation has been targeted at Norris is anyone's guess. There doesn't seem to be any real rancor associated with it, rather hero worship.
Spurious Facts
According to The Original Chuck Norris Fact Generator, Norris managed to count all the way to infinity -- twice. According to the Chuck Norris Facts site, the reason Pluto was recategorized from being a planet of the solar system to a dwarf planet in 2006 by the International Astronomical Union was that Norris sneezed. It's also a fact that 73.28 percent of all the facts floating around about Chuck Norris are just made up. Or is it?
Photo Credits
Chip Somodevilla/Getty Images News/Getty Images