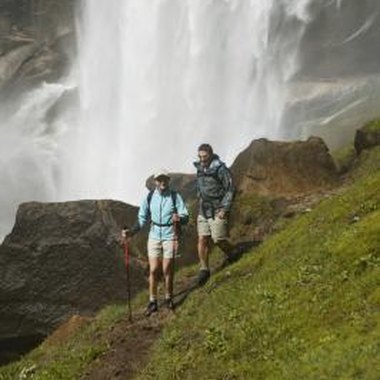 Known as "The Star City of the South," Roanoke is located in southwestern Virginia along the Blue Ridge Parkway and the Appalachian Trail. Local high points are the Peaks of Otter and Mill Mountain with the shining star lit above the Mill Mountain Zoo. With an elevation of 940 feet, Roanoke is surrounded by many easy-to-difficult hiking trails wandering through steep ridge and low wooded valleys culminating in beautiful waterfall vistas.
Apple Orchard Falls
The 200-feet tall Apple Orchard Falls lies at the peak of Apple Orchard Mountain. The waterfall cascades down a field of steep boulders with a total drop of 100 feet. This mountain and waterfall are named for the dominant northern red oak that survives the harsh environment at the summit. The Apple Orchard Falls -- Cornelius Creek 7.5-mile trail loop -- is a moderate difficulty hike, but is worth the spectacular view of one of Virginia's tallest waterfalls.
Bottoms Creek Gorge
Boasting a view of Virginia's second tallest waterfall, Bottoms Creek Gorge Trail is a 3.43-mile, moderately difficult hike. With views of multiple waterfalls, Bottoms Creek Gorge is comprised of step-down series of falls known as the "kettles." The feature waterfall is 200 feet tall. The Bottoms Creek Gorge Trail winds among forests of hickory, maple, oak and tulip poplar intermingled with upland meadows.
Fallingwater Cascades
Fallingwater Cascades can be seen from two trail heads that begin approximately one mile apart at mile marker 83 on the Ridge Parkway. The Flat Top and Fallingwater Cascades trails are a 1.6-mile loop start at an elevation of 2,500 feet and reaches 2,200 feet at the lowest points. The view encompasses several bluffs and an Appalachian stream that drops from a mountain cleavage and bounces across numerous rock faces. The Fallingwater Cascades are your reward for a moderate hike -- a difficulty factor of two on a scale of zero to four. There are multiple places to rest along the and two wooden bridges crossing the flowing creek.
Roaring Run Falls
The Roaring Run Falls Trail is an easy, two-mile hike for the whole family. Named for the Roaring Run Furnace, an early 20th century iron ingot furnace, this trail runs along Roaring Creek among birches and hemlocks along old tram lines. The trail crosses five foot bridges and features steps at its steepest points. Roaring Run Falls Trail begins off of State Road 621 near Eagle Rock, Virginia.
Resources
"Appalachian Trail Thru-Hiker's Companion"; Appalachian Long Distance Hiker's Association; 2011
Photo Credits
Jupiterimages/Comstock/Getty Images