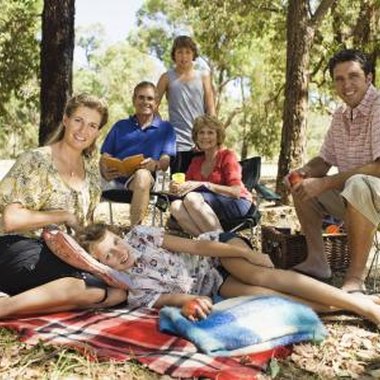 The natural beauty of Paradise Falls inside Ventura county's Wildwood Park often leaves visitors awestruck. The hike into the the 40-foot waterfall is a favorite among locals due to its easy accessibility, its proximity to the city of Thousand Oaks and the family-friendly atmosphere amid the suburban sprawl. Hikers looking for a bit of exercise away from busy streets and shopping malls will find what they are looking among Wildwood's oak-lined hiking trails.
Wildwood Park
Wildwood Park is open year-round from 7 A.M. until dusk. There is no fee to enter. Numerous clearly marked trails, mostly on well-maintained fire roads, will lead to the falls as well as other attractions -- including Lizard Rock's panoramic view and the puzzling tunnel known as Indian Cave. A trail map at the main parking lot off Avienda de los Arboles helps visitors select the best route to suit their personal tastes and needs.
The Waterfall
The most direct route to the fall is to head east via the Wildwood Canyon Trail. This short 1-1/2-mile hike rewards hikers with a spectacular view of the 40-foot waterfall that cascades down volcanic rock into a medium-sized pool. Take in the refreshing scenery and the cool mist of the fall, but forego a swim and enjoy a quick nap or a short snack instead; while a few daredevils may occasionally brave the a dip in the water, there are posted signs advising against it as the water source is part spring and part street run-off, making the pool unhealthy for swimming.
The Trail
The trail is fenced in some areas to protect hikers from slightly steep drops and make the trip more kid-friendly. Depending on the route, expect a 200-400 foot elevation gain and some steep drops to get to the bottom of the fall. On the return loop, picnic tables offer a place to rest or share a meal. Dogs and horses are allowed to share the road with hikers on foot.
How to Get There
Wildwood Park is easily accessible from major freeways and a short drive from downtown Thousand Oaks. The park is less than one mile from the 101 Freeway north, and the Moorpark Freeway exits right onto Avienda de los Arboles. GPS coordinates for the trailhead are: Latitude 34.219686, Longitude 118.900648. For more information, call the Park and Recreation office at 1-805-495-6471.
Photo Credits
Jupiterimages/BananaStock/Getty Images