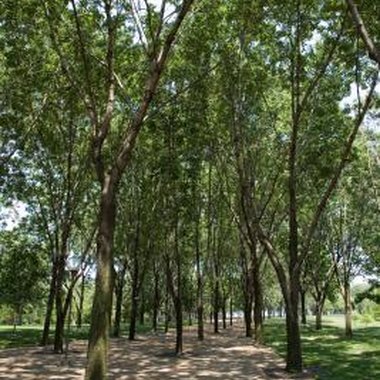 The northwest corner of Missouri was settled by pioneers as the nation began to spread westward. The Pony Express started here, and it's the place Jesse James met his demise. The region's rich history isn't the only attraction, though. Visitors also come to enjoy the wildlife unique to the area, such as bald eagles and migratory snow geese. There are plenty of opportunities for outdoor recreation, such as boating, fishing and hiking.
Buchanan County
Buchanan County has seven miles of hiking trails in the remnants of Missouri's oak forest. Advanced hikers should try Maple Falls Trail, which winds through lush forests for over a mile and a half, featuring streams and steep inclines. The Prairie and Meadow trails are handicap-accessible and are each under half a mile. The most rigorous is the Lone Pines Trail, where hikers climb over a mile and a half to a bluff overlooking the Missouri River flood plain. The area is home to wild orchids and waterfalls. Additional recreational opportunities include bird-watching and hunting. Restrooms, picnic areas and pavilions are available.
Kansas City Area
Kansas City is home to the Blue River Parkway, and there are several multi-purpose trails that wind along both sides of the river. The 12 miles of trails feature twists and tight turns and offer a challenging hike. Shelters and picnic areas are available. Indian Creek Trail is in Overland Park, Kansas City's biggest suburb. It's nearly 19 miles and features some steep grades over paved terrain. Bikers are welcome, and the trail is handicap-accessible.
The Katy Trail
The Katy Trail goes for over 225 miles through four of five regions in Missouri. It can be hiked or biked as it winds through small towns and farmland along the Missouri River. The trail begins in St. Charles and ends in the western town of Clinton and runs along the old railroad corridor. There are 25 trailheads where hikers may access the trail for trips of varying distances. The Katy Trail is the longest trail supported by the Rails to Trails Conservancy, whose goal is create trails along old railroad tracks for recreational purposes.
Jackson County
The Riverfront Heritage Trail, 10 miles long, connects communities in Missouri and Kansas. The trail has several access points and winds through the historic parts of Kansas City. It's the only trail in the area that features public works of art, and serves as the hub for the system of trails that are planned for the region.
Resources
Photo Credits
Jupiterimages/Photos.com/Getty Images