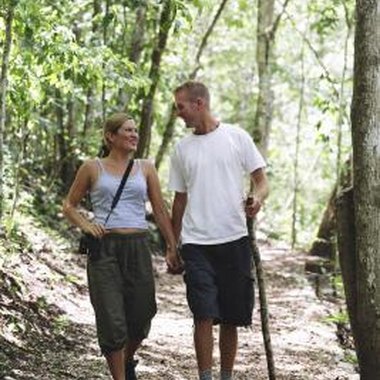 Tucked in between police stations, municipal buildings, homes and other staples of a modern city are dozens of trails that wind around the unique natural beauty of Halton Hills, a city located to the west of Toronto, Canada. Residents and visitors have plenty of options to choose from when they feel like taking a hike, both within the city limits and in large tracts of conservation-zoned land that protect waterfalls, rock cliffs, riverbeds and more.
A Hiking Community
The city of Halton Hills has a detailed brochure on its website that showcases area trails to encourage residents to take advantage of the many hiking opportunities and reap the benefits of taking a daily hike, from reducing stress to better digestion. The brochure encourages families to get out and explore their community while enjoying the natural beauty that exists in their own backyards.
Municipal Lands Hiking
Within the city limits, Halton Hills offers residents a series of hikes, from a short mile-long loop around Fairy Lake, located near the historic downtown area, to a Hungry Hollows Trail, which follows Silver Creek for 2.5 miles. The trails in the city range from wood-chip and gravel to asphalt to concrete sidewalks and offer a variety of skill levels, from beginner to advanced.
Niagara Escarpment Lands
Traveling through the city is a portion of the oldest and continuous footpath in Canada, spanning more than 550 miles of main trails and 250 miles of side trails. Called "The Bruce Trail," the portion that runs through Halton Hills sits on Niagara Escarpment lands and is maintained by a charitable organization that relies on nine different volunteer clubs to help maintain the trail as it passes through their regions.
Halton Hills Conservation
A guidebook called "Halton Hikes" not only showcases 50 hikes near Halton Hills, but also encourages people to get healthy and make their community a greener place. Net proceeds from the book benefit a tree planting program called "Footsteps for Trees." Included with the guidebook is a pedometer, which counts your steps as you hike so that you can document your travels and submit information to the program about your hiking accomplishments. For every 10,000 steps -- about three hours of hiking -- you document, the tree planting program will plant a tree in the area. The trees planted will be strategically placed to improve local watershed areas and protect the environment.
Resources
Photo Credits
NA/AbleStock.com/Getty Images