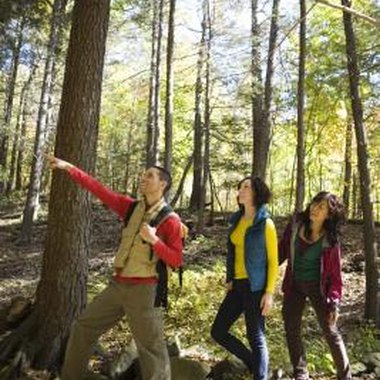 Keene, New Hampshire is located in the Monadnock region, a lush wilderness filled with hiking trails up and around Mt. Monadnock. The rest of New Hampshire is also home to picturesque hiking trails that traverse through mountains, woods, streams and rivers. For those looking to explore these trails with other enthusiasts, Keene and other towns in New Hampshire have a number of hiking clubs dedicated to hiking excursions in New Hampshire.
Monadnock-Sunapee Greenway Trail Club (MSGTC)
MSGTC (msgtc.org) was founded in 1994 as a non-profit club focusing on maintaining and promoting hiking trails along the 48 mile Monadnock-Sunapee trail that stretches from Mt. Monadnock to Mt. Sunapee. The club publishes a trail guide which can be purchased on their website for eighteen dollars. MSGTC accepts both volunteer help and donations for maintenance efforts on the trail. Events sponsored by MSGTC include trail cleanups, bridge and shelter repairs and hiking excursions. MSGTC is based out of Marlow, New Hampshire, which is approximately 15 miles from Keene.
New Hampshire Chapter of the Appalachian Mountain Club
The Appalachian Mountain Club is dedicated to exploring and hiking the mountains of the Appalachian Trail. New Hampshire's Chapter (amc-nh.org) focuses on the portion of the trail in the state. The New Hampshire Chapter includes groups for conservation, biking, paddling and skiing, but their "Excursions" group is their hiking arm. The group leads hikes for individuals, families, older hikers and children to peaks in the Presidential Range, White Mountains, Monadnock-Sunapee and Pawtuckaway State Park. Trips are led by volunteer experienced trip leaders and range from day hikes to overnight trips. Membership is open to anyone interested in the outdoors, and hikes include trails all over New Hampshire, including some that pass through Keene.
Cohos Trail Association
The Cohos Trail is the only international trail in New Hampshire, stretching 162 miles from Crawford Notch up across the Canadian border. The Cohos Trail Association (cohostrail.org) is a volunteer non-profit organization that maintains the trail and its various amenities, including bridges, trail guides and overnight hostels. They also work with local school groups, outdoor clubs and other groups interested in hiking the trail by helping to organize day and overnight hiking trips and providing resources to help ensure a safe travel along the trail. The Cohos Trail Association is based out of Pittsburg, New Hampshire, approximately 196 miles from Keene.
Wonalancet Outdoor Club
The Wonalancet Outdoor Club (wodc.org) is dedicated to maintaining 52 miles of hiking trails in White Mountain National Forest. Since 1892, the group has taught conservation and preservation of the natural area along the trails to ensure all hikes are sustainable and friendly to the environment. They create and restore trails and publish a guidebook for hikers to use along the trails. Aside from trail maintenance, volunteers hike the trails and speak with other hikers about the trails and their hiking experiences during their "Outreach" days. Wonolancet is approximately 117 miles from Keene.
Photo Credits
Jupiterimages/Brand X Pictures/Getty Images