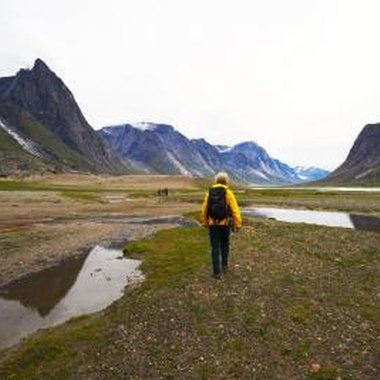 Wilderness hiking on Baffin Island, Canada, takes you over the Arctic Circle, past glaciers, along coastlines with granite walls rising vertically from the sea and through polar bear territory. Auyuittuq National Park -- named with an Inuit word meaning "Land that Never Melts" -- gives you a chance to see all of these gems. Located on the southern part of the island, Auyuittuq is one of Canada's largest and most rugged national parks; hiking through it warrants careful planning.
Trip Planning
At least two weeks before your trip starts -- but no later than 48 hours -- contact Parks Canada to schedule a mandatory orientation session. Park orientation is a required safety feature for all visitors entering the park. During your 60- to 90-minute session you will also get your permit, pay your fees and talk with wardens about current park conditions. Polar bears are often seen in the park and guns are banned; be sure to read the "Safety in Polar Bear Country" brochure found at pc.gc.ca. Detailed park maps are available from chrismar.com to help you prepare a detailed trip itinerary -- you'll need to provide this at your orientation session.
Getting to the Park
Once you've flown to the island, hire an outfitter to ferry you to Auyuittuq Park. While it is physically possible to get to the park on foot, you will increase your chances of meeting a polar bear; Park Canada recommends against foot travel. The park office in Pangnirtung (no website; 867-473-2500) maintains a list of transportation providers. In the Arctic, weather conditions often dictate your travel schedule. Flights to the island can be canceled due to fog, and pack ice conditions can temporarily prevent boat travel to the park. If you find yourself hunkering down on the island for a day or two, take advantage of the chance to visit with the indigenous Inuit peoples; their weavers, print makers and carvers create striking work.
Auyuittuq National Park
Summer in the Arctic comes after June's ice break up, and it's usually safe to travel to the park from late July through September when the fjords are typically ice-free. Akshayuk Pass is the summer's most popular hiking route, with eight emergency shelters along the way. The 60-mile passageway takes you through a stunning corridor flanked by mountains and ice. Although the hike normally takes seven to 10 days, consider adding in time to visit one of the Inuit communities you'll pass along the way. A day hike to the Arctic Circle from Pangnirtung is also available.
Safety Tips
This is rugged territory that deserves your respect and careful planning; weather can impact your hike at any time. The valley of the Akshayuk Pass is a corridor that fosters steady winds; you could experience blowing sand or winds strong enough to carry your tent away. Late summer is the wettest time of the year, and snow can fall anytime -- by mid-August, snow in the pass is common. But the main hazard is crossing rivers and streams. Glacial silt clouds the water, making it difficult to gauge depth. Select a wide channel and cross early in the morning -- before 7 a.m. -- when water levels are typically at their lowest.
Resources
Photo Credits
Jupiterimages/Photos.com/Getty Images