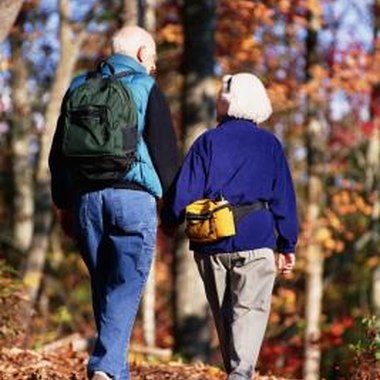 With a population of about 21,000, Acton is a small town in eastern Massachusetts, about 25 miles northwest of Boston. With 16,000 acres of conservation land, residents and visitors have a variety of scenic hiking routes to enjoy. Acton is also home to other parks and trails that provide hiking opportunities.
North Acton Recreation Area
The North Acton Recreation Area (acton-ma.gov) features a pond with beach access that is encircled by a walking trail. While beach access requires payment, hikers can enjoy the trails free of charge. A trail that goes around the pond measures 0.5 miles, while a trail encompassing the entire park travels 1 mile.
Nashoba Brook
Nashoba Brook (actontrails.org) features 123 acres of conservation land. A 2-mile trail travels parallel to the brook, providing a scenic hiking opportunity. The trail features wetlands, high-arching trees, bridges and meadows. Additionally, hikers can learn about the area thanks to a four-sided kiosk on the trail that provides information about the land's ecology.
Spring Hill
Nashoba Brook connects to Spring Hill (actontrails.org), a 181-acre area that was acquired by Acton over a 30-year period starting in 1966. At Spring Hill, hikers have access to a 2.5-mile trail that in the winter provides a route for cross-country skiers. A variety of foliage and wildlife inhabit Spring Hill, giving hikers many things to observe in their travels.
Camp Acton
Also connecting to Nashoba Brook and Spring Hill is Camp Acton (actontrails.org), which features 59 acres of city-owned land. The trails at Camp Acton provide certain features unseen at the nearby areas. Hikers at Camp Acton have access to a substantial picnic area, providing an area to relax and enjoy the views over a packed lunch. Additionally, Camp Acton is known for its 100-year-old white pines that line the parking area for the conservation land.
Nagog Hill
Nagog Hill (actontrails.org) is a 170-acre conservation land with a 1.9-mile hiking trail. This trail circles two wetland areas, meadows, a pine grove and other streams. In addition, two side trails provide more views of the scenery. Hiking is aided by bridges, which allow walkers to get a closer look at the conservation area. Hikers in search of a longer trek can join the connecting trail at the Grassy Pond Conservation Area. This stretches the hike to 3 miles and adds views of shrubs, apple orchards and berry bushes to the journey.
Photo Credits
Thinkstock Images/Comstock/Getty Images