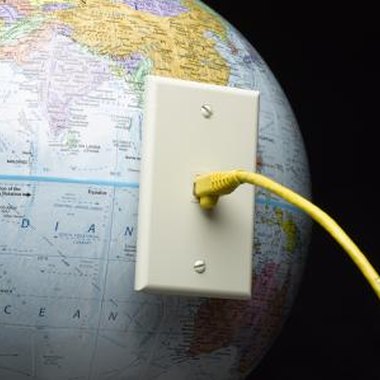 While large corporations such as AT&T;, Qwest and Comcast can provide high-speed Internet almost anywhere people live in America, sometimes it's nice to support smaller, local entities as well. Even in the tiny rural town of North Vernon, Indiana, high-speed Internet service is available from an array of local and national providers.
Cinergy MetroNet
Cinergy MetroNet is one of the few Internet service providers from which North Vernon residents can get fiber-optic service, a system that replaces the typical copper-wire network of online transmission to create data speeds up to 270 times faster than traditional dial-up Internet and up to 20 times faster than even DSL. Cinergy delivers the fiber-optic cable all the way to your door, so you don't share the Internet line with other users --- another factor that contributes to the company's speedy Internet service.
LocalNet
North Vernon residents can get DSL and dial-up Internet services from LocalNet, where unlimited high-speed access starts at only $10 per month. The company's DSL package comes at speeds up to 7.1 megabits per second. For three additional dollars a month, you can enroll in the company's Express 3.0 Web accelerator service, which compresses text and graphics data, making your Internet speed even faster; The company claims up to 25 times faster depending on the website being loaded.
Blueriver Networking Services
Blueriver is a full-service Internet Service Provider that has been catering to southern Indiana since 1995. You can purchase dial-up, DSL, wireless and dedicated Internet packages as well as hosting, domain registration and even Web design services. Recently, Blueriver added broadband digital phone service to its list of options. The company has technicians on staff trained to assist you with issues in Microsoft networking, Novell networking and most varieties of UNIX-based networking.
EarthLink
EarthLink is an Internet service provider available in areas where Time Warner, Bright House and Comcast service is available, as it shares the same network of Internet cables. EarthLink is smaller than these companies but still big enough to offer customer assistance by phone seven days a week, from 9 a.m. to 6 p.m. EST. Residents of North Vernon can subscribe to high-speed dial-up Internet through EarthLink, with rates starting at $10 per month, or they can upgrade to satellite Internet starting at $60 per month, increasing data speed to 5Mbps.
Photo Credits
Jeffrey Hamilton/Lifesize/Getty Images