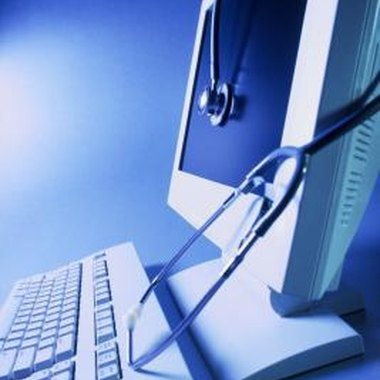 Winneconne is a small village in Wisconsin's Winnebago County and home to approximately 2,400 residents. Those looking for high-speed Internet service can choose between packages offered by Charter and HughesNet. Charter offers DSL and other high-speed service, which can be purchased as stand-alone service or as part of a bundle with phone and television service. HughesNet offers satellite Internet service with some restrictions.
Charter DSL
Charter offers DSL service to Winneconne customers, with download speeds topping out at 1 Mbps and upload speeds topping out at 128 Kbps. The package retails for $20 a month, as of July 2011, with a one-time $50 installation fee and no equipment to buy. Charter says this package, which does not require a long-term contract, is best for those on a budget who are looking to do basic web surfing and email.
Charter Cable Internet
For Winneconne residents looking for faster Internet service, Charter offers a number of other Internet packages with download speeds ranging from 12 Mbps and 25 Mbps and upload speeds ranging from 1 Mbps to 3 Mbps. These faster packages range in price from $45 to $70 a month, though the company often has specials and other deals available. These packages do not require long-term contracts, but do come with a $50 installation fee, though some residents may qualify for a self-installation discount.
Charter Bundles
Charter also offers discounts on Internet service for those who bundle it with telephone and/or television service. These bundles, which range in price from $95 to $150 per month with discounts available, allow customers to mix and match types and levels of service, choosing the types of features they're looking for. Customers can build bundles with either Charter DSL or Charter cable Internet.
HughesNet
HughesNet offers satellite Internet service in the Winneconne area, with packages with maximum download speeds ranging from 1 Mbps to 2 Mbps. Upload speeds range from 200 Kbps to 300 Kbps maximums. All packages come with user email accounts and access to the company's 24/7 customer service. HughesNet requires a two-year contract with all Internet packages and prices range from $60 to $110 per month, though discounts are available. HughesNet packages also restricts users' downloading, including daily limits of 200 Mb to 400 Mb with each package.
Photo Credits
Thinkstock Images/Comstock/Getty Images