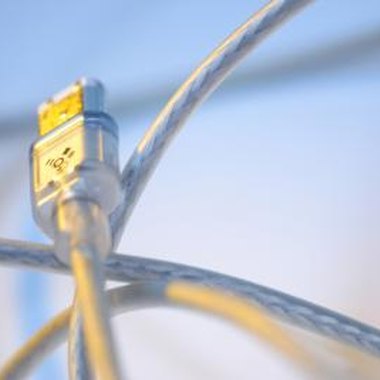 People in Philadelphia, Pennsylvania, have several options for high-speed Internet access: satellite, wireless, cable and DSL. Your service address may limit your choice of service providers, but you can always check to see whether a specific provider covers your household by inputting your address in the look up area on the provider's website or calling the sales department.
Satellite
HughesNet and WildBlue both provide high-speed satellite Internet service in Philadelphia. The providers each have multiple plans with download speeds approaching 2 Mbps, in some instances. Subscribers must install a mini-dish on premises to send and receive signals from a geostationary satellite in the sky. The FCC requires a professional installation of any satellite Internet service on premises to ensure the service works as intended. Subscribers must have a clear view of the southern sky and sign a 24-month agreement for service with either provider.
Cable
Time Warner Cable and Comcast both provide high-speed Internet to Philadelphia residents. Subscribers may choose from a range of plans with varying speeds to meet your needs. Time Warner's fastest plan allows downloads of up to 50 Mbps while Comcast's Extreme 105 plan allows download speeds of up to 105 Mbps. Both providers offer perks which include security software, multiple email accounts and 24/7 customer support. Subscribers are not required to sign long-term contracts and may take advantage of "triple-play" bundles that include digital home phone and cable TV at a fixed or introductory price with one monthly bill.
Wireless
CLEAR, AT&T;, Sprint, Airband and T-Mobile all provide wireless Internet service in Philadelphia. Airband focuses on business customers while all the other providers cater predominantly to residential users. Customers may select from providers that offer fixed wireless services for home use, or mobile wireless Internet plans that allow for travel outside the home. Plans may offer speeds ranging from 1 Mbps up to 10 Mbps. You may be required to sign a long-term contract depending on the provider and plan selected.
Fiber
Verizon's plans to make 660,000 houses and apartment buildings in Philadelphia fiber-optic ready by 2016. The provider will be in direct competition with Comcast and other broadband Internet providers. The Philadelphia City Council approved a plan for Verizon to build a $1 billion FiOS network in the city. Customers may bundle digital phone service and FiOS TV at a fixed price on one monthly bill. Verizon has several high-speed Internet plans, with some possessing speeds of up to 150 Mbps. Plan availability will vary depending on the FiOS rollout and your service address.
Photo Credits
Hemera Technologies/AbleStock.com/Getty Images