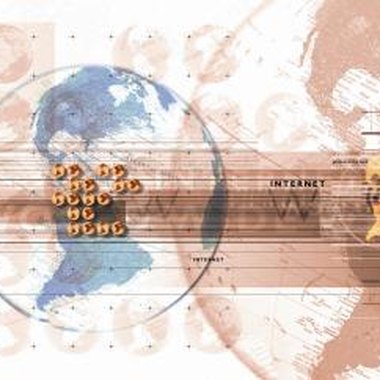 High-speed Internet is available to residents of Paducah, Kentucky through several service providers. Whether you have a preference for cable, DSL (Digital Subscriber Line) or satellite, you should consider your needs and usage patterns carefully before selecting a provider. Some high-speed Internet services may be better for you than others.
Comcast
XFINITY Internet from Comcast allows you to choose from two levels of service. The Performance package offers download speeds up to 15 Mbps, while Blast! pushes that number to 20 Mbps. These speeds allow for gaming, movies and ordinary web browsing. Both packages include free security software and seven email accounts each with 10 GB of storage. ESPN3, a digital sports network broadcasting thousands of live games, is also included with all Comcast XFINITY packages.
AT&T;
DSL service from AT&T; uses existing phone lines to deliver high-speed Internet. Unlike dial-up connections, DSL does not conflict with home phone usage. The LITE package is the provider's most economical and provides speeds of 768 Kbps, Xtreme offers 6 Mbps download capability. In general, DSL is not as fast as cable, but is still fine for casual web browsing. Gamers and power users, however, may require a bit more speed than AT&T; DSL can offer.
Insight Communications
Cable broadband Internet from Insight offers high-end service that boasts speeds up to 50 Mbps. At those speeds, online gaming, file downloads and movies become a seamless experience. Insight also sells packages at 10, 20 and 30 Mbps download speeds, so consumers can tailor a package to their usage needs. Like Comcast, Insight provides a free security suite with new activations and access to the digital sports network ESPN3.
Windstream
Windstream, a smaller but reputable service provider, advertises high-speed DSL for residents of Paducah. Their packages begin at 3 Mbps and go up to 12 Mbps, fast enough for most users. For tech-savvy consumers, Windstream can mail a self-installation kit. Windstream also sells security software and online backup services at discounted prices. The online backup is useful in the event of disasters or for accessing important files when away from home.
HughesNet
Satellite Internet from HughesNet may be a good choice for those who are "off the grid." You need a good view of the southern sky for satellite to work at your home or business. The Basic package offers download speeds of 1 Mbps, while the Power 200 package bumps that up to 2 Mbps. The drawbacks of satellite Internet are its questionable reliability -- stormy weather can impact service -- and daily download allowances, topping out at 400 MB in any 24 hour period.
Photo Credits
Photodisc/Photodisc/Getty Images