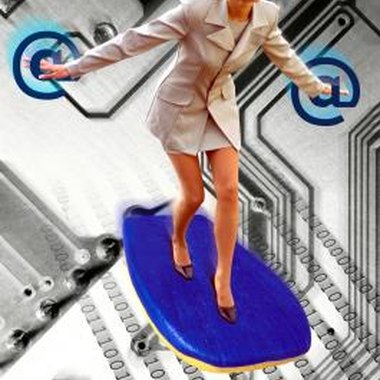 Located due north of Cincinnati and Dayton, Troy, Ohio, has earned recognition as a great place to raise a family, start a business or just relax. With more than a thousand acres of parkland, Troy's planners take green space and recreation very seriously. As a home to multinational corporations, Troy is at the cutting edge of technology, including Internet service provision. Residents, businesses and visitors all benefit from having several choices for accessing reliable high-speed Internet connections.
Time Warner Cable
Time Warner Cable sells several cable Internet packages to customers in Troy, Ohio. For casual browsers and those who only need to check email, Road Runner Lite and Road Runner Basic provide enough speed to complete those tasks efficiently. Standard and Turbo offer download speeds up to 20 Mbps, fast enough for online gaming and streaming high-definition movies. Time Warner Cable also provides a service called Wideband, which travels through fiber optic cables. Wideband speeds can reach 50 Mbps, perfect for a home network of power users or a small business.
CenturyLink
For both home phone and DSL Internet service, Troy residents turn to CenturyLink. Packages range in speed from 768 Kbps up to 10 Mbps. DSL provides a dedicated connection, so there is less speed variability as compared to cable Internet service. CenturyLink allows subscribers to chose from several add-on features. A PC security suite guards against viruses and attacks, while PC backup offers safe, remote storage for important files.
Cricket Wireless
Service from Cricket requires the purchase of a broadband USB modem. Subscribers sign up for plans based on their expected data usage. Cricket offers plans that allow for 2.5 GB, 5 GB and 7.5 GB of monthly usage. Exceeding your monthly threshold will result in a temporary speed reduction. All of Cricket's plans advertise a maximum download speed of 1.4 Mbps. As with any wireless Internet connection, buildings, topography and weather can all negatively impact speed and reliability.
Verizon
Verizon provides both 3G and 4G cellular service in an around Troy, Ohio. With a USB modem, any laptop or desktop can access high-speed Internet through Verizon's network. Data packages allow for a predetermined quantity of access, ranging from 1 GB up to 10 GB. Should an account exceed the monthly limit, overage charges will apply. Prepaid plans with no overage or activation fees are available by the day, week or month. Service through a prepaid plan will terminate once the allotted data amount has been reached.
Photo Credits
John Foxx/Stockbyte/Getty Images