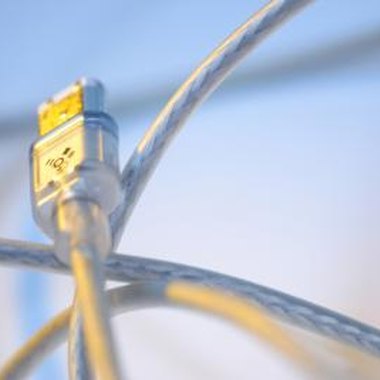 High-speed Internet service is available in Kansas City, Missouri. Residents have several options from which to choose. You can get high-speed Internet service as a standalone product or you can bundle the Internet service with cable TV and a landline. You may be able to negotiate a better deal if you are switching from one provider to another. Call or visit the providers in person in order to negotiate the best deal.
AT&T;
AT&T; offers five different high-speed Internet-only options. Pricing ranges from $20 to $50 per month. Downstream speeds start at 3 megabytes per second, or Mbps, with the $20 plan to 24 Mbps with the $50 plan. The Internet plans come with a 1-year service agreement. AT&T;'s terms of service state that it may assess an early termination fee if you cancel your service prior to the initial 1-year agreement.
Time Warner
Time Warner offers several high-speed Internet options for Kansas City, Missouri residents. Customers can choose from Earthlink Internet, RoadRunner, RoadRunner with PowerBoost or Time Warner Wideband services. Earthlink offers speeds four times faster than standard DSL. This package comes with free antivirus protection, photo sharing, music sharing, up to eight email accounts and a personal webpage. RoadRunner and RoadRunner with PowerBoost offer faster speeds than the Earthlink package. Download speeds range from 768 kilobytes per second, or kbps, download speeds to 15.0 Mbps download speeds for the turbo service. Power boost is an add-on product for RoadRunner. It will increase download speeds up to 22 Mbps, depending on your RoadRunner service. Gamers and others who have a need for maximum download speeds will want to look into Time Warner's wideband Internet service. This service provides speeds of up to 50Mbps. This is a new service from Time Warner and it may not be available in all areas of Kansas City, Missouri.
Comcast
Comcast serves a very small portion of Kansas City, Missouri. Most of the city is serviced by Time Warner, except in a small pocket located near Kansas City, Kansas. For customers in this area, Comcast offers Xfinity, a high-speed Internet service. You can verify availability for your area by calling 1-800-226-2278. You will need to give them your street address.
HughesNet
HughesNet is a provider of satellite Internet services. This differs from cable and DSL lines in that the Internet connection is sent directly to a satellite, then to the Internet and back to your computer. This is a good option for people who have an unobstructed view of the sky, like from a tall building's rooftop. Satellite Internet service has latency issues. There is a slight lag in the time it takes for the connection to make a round trip. If you have time-critical applications running over the Internet; for example, day-trading or gaming, then satellite Internet service will not work for you. HughesNet supplies the Kansas City, Missouri area with high-speed Internet access. The speeds range from 1.0 Mbps to 2.0 Mbps.
Google
Google's high-speed Internet service is coming to the Kansas City, Missouri area in 2012. This service is up to 100 times faster than currently available broadband connections. Only two cities are scheduled to have this service by 2012 -- Kansas City, Missouri, and Kansas City, Kansas.
Photo Credits
Hemera Technologies/AbleStock.com/Getty Images