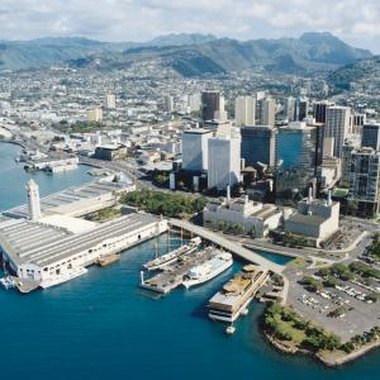 Despite its distance from the mainland, the island state of Hawaii has a variety of high-speed Internet options for home, mobile and business use. From big cable and telecom companies serving the major cities and metropolitan areas to smaller broadband and satellite providers reaching the smaller islands and remote areas, it's possible to find high-speed Internet access in Hawaii that fits any location or budget.
Comcast Hawaii
Comcast Hawaii offers fast and affordable high-speed Internet access throughout the state of Hawaii. As of June 2011, an introductory Internet package starts at $19.99 a month. That comes with a comprehensive security suite that includes virus and firewall protection, privacy protection and parental controls. It also includes access to streaming live sports on ESPN3. Comcast Hawaii's high-speed Internet can also be bundled with digital cable and telephone services for even greater entertainment, communication and savings options.
Aloha Broadband
Aloha Broadband offers high-speed Internet in areas of Hawaii that aren't covered by the bigger cable and DSL Internet providers. In June 2011, Aloha Broadband's coverage areas include, but aren't limited to, Ocean View, Ranchos, South Point, Discovery Harbour, Mark Twain, Green Sands, Milolii, Captain Cook, Opihihale, South Kona and North Kohala around the Makapala and Niuli'i area. Aloha Broadband's coverage area is continually growing as it adds new areas. Service runs $50 a month and requires a $200 installation fee.
Hawaiian Telecom
Hawaiian Telecom has high-speed Internet packages starting at $34.99 a month as of June 2011. This is not an introductory price, and it is not subject to change once you sign up. Hawaiian Telecom's packages include a variety of free extras, including a wireless router, access to over 200 Wi-Fi hot spots nationwide and a security suite by McAfee.
Skycasters
Skycasters provides high-speed satellite Internet solutions to businesses throughout the state of Hawaii. Unlike cable or DSL, satellite Internet isn't limited to location, and Skycasters can reach you anywhere in the state. Intended more for companies, businesses and cafes than for home use, Skycasters plans start at $149 a month as of June 2011 and require an equipment purchase. Two-year plan agreements are eligible for discounts on equipment purchases.
Photo Credits
Jupiterimages/Photos.com/Getty Images