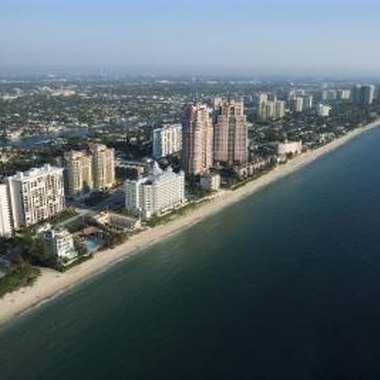 Fort Lauderdale lies on the Atlantic coast of South Florida, just north of Miami. Residents looking for deals on high-speed Internet service have several providers to choose from. Cable, DSL and wireless Internet providers all sell packages in the Fort Lauderdale area. Choosing one plan out of many involves analyzing how you use the Internet and what extra features are important to you.
Comcast
XFINITY Internet from Comcast is available in Performance and Blast! packages. Performance offers top speeds of 15 Mbps, while Blast! offers downloads at up to 20 Mbps. Both packages feature Constant Guard, a fully loaded security suite. Subscribers receive seven personal email accounts and 70 GB of total email storage. All packages include access to live sports coverage on ESPN3, an online sports network featuring live events. New customers can install the modem and software themselves or schedule to have the work done professionally. Comcast encourages customers to bundle cable television and Internet service for potential cost savings.
Windstream
Windstream offers DSL Internet service at speeds of 3, 6 and 12 Mbps. DSL service travels over traditional phone lines but does not interfere with voice signals. New subscribers receive one free month of McAfee virus protection and online backup. Windstream provides users with access to ESPN3. Tech-savvy subscribers can have the modem delivered via postal mail and install it themselves. Support lines are open 24/7 to help customers resolve virtually any issue.
Clear Wireless Internet
Clear provides wireless, high-speed Internet access in and around Fort Lauderdale. Packages are available for both home and mobile usage. Micro packages include a daily download limit of 200 MB. The Home Basic package offers download speeds up to 1.5 Mbps. No other plan has a set speed cap. Home users must purchase a wireless modem, while mobile users need a wireless-ready device or laptop card to access Clear's network. Bundle plans that include both home and mobile services are also available.
AT&T; U-verse
U-verse from AT&T; takes advantage of a fiber optic network to deliver high-speed Internet service. A technician installs a wireless gateway, enabling home networking for multiple devices. Service packages range in speed from 3 to 24 Mbps. McAfee has partnered with AT&T; to provide firewall and antivirus protection. SpamGuard keeps email inboxes from swelling with unwanted mail, while parental controls ensure that children can use the Internet in safety. U-verse subscribers also enjoy the benefit of AT&T; Wi-Fi access nationwide and free of charge.
Resources
Photo Credits
Jupiterimages/Comstock/Getty Images