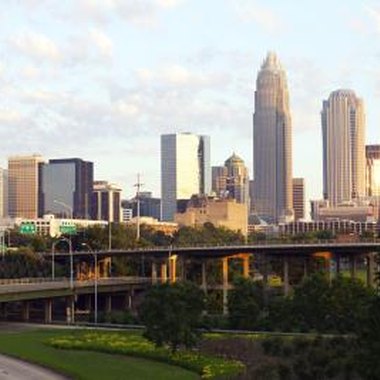 Charlotte is the most populous city in North Carolina and home to several professional sports teams. Residents naturally expect the best in utilities and services. Savvy consumers understand that the market for high-speed Internet provision is diverse. Several service providers in Charlotte offer a range of access methods, from DSL to cable and wireless.
Time Warner Cable
Time Warner Cable offers residents of Charlotte a broad selection of high-speed cable Internet packages. New subscribers can several features to their orders, from free Internet security software to a parental controls tool. A basic package, such as Road Runner Lite, will allow for downloads of 768 Kbps. Road Runner Broadband offers speeds up to 10 Mbps. For a home network and multiple users, Time Warner Cable sells Wideband Internet, with speeds of 50 Mbps.
Windstream
Windstream, a home telephone service provider, also sells DSL high-speed Internet access. One advantage of DSL is that installation of the service requires no special equipment or training. Subscribers can opt to receive their modem in the mail and call to activate the connection. Windstream sells three packages: 3 Mbps, 6 Mbps and 12 Mbps. With each package, Windstream provides one month of free McAfee Internet security software. For a modest fee, Windstream can also provide remote backup of all your sensitive data.
Verizon Wireless
Charlotte residents who need their high-speed connection to follow them around the city can choose from packages sold by Verizon Wireless. Mobile broadband packages from Verizon vary in their monthly data allowance. A basic offering will allow for 1 GB of downloads per month. Subscribers will notice a speed reduction should they exceed their allowance. The most expensive packages have an allowance of 10 GB. Speeds on a 3G or 4G network are dependent on many variables. A typical 3G network connection can reach a maximum speed of 1.4 Mbps, while the ideal 4G connection ranges from 5 Mbps to 12 Mbps.
Cricket Wireless
New subscribers to Cricket Wireless must purchase a mobile broadband modem to access the network. Installation requires simply plugging the modem into your desktop or laptop. Cricket sells plans with different monthly usage limits. The Basic plan allows for 2.5 GB of downloads per month, while the Premium plan allows for 7.5 GB. Customers who exceed their monthly limits will see reduced speeds. All of Cricket's plans offer 3G speed, which equates to around 1.4 Mbps in ideal conditions.
Photo Credits
Thinkstock Images/Comstock/Getty Images