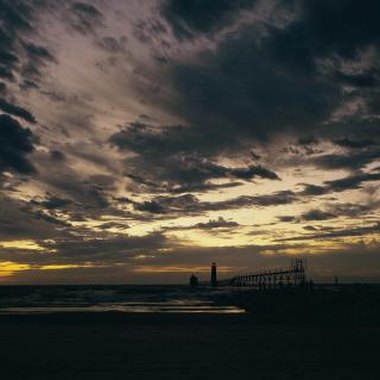 Businesses located in the western Michigan city of Grand Haven have several different ways to obtain high-speed Internet access. The exact options available and their speeds will vary depending upon the specific location of the store or office. However, businesses do tend to operate in areas covered by high-speed Internet services such as cable, DSL (Digital Subscriber Line) and T1. Business operators should consider the price, speed, reliability, security, and extra features of each service.
DSL
Businesses with standard telephone lines can use high-speed DSL if they aren't too far away from the nearest telephone facility. Lightning Bolt DSL indicates that it supplies DSL access in Grand Haven, Michigan. They have a business level service option. AT&T; offers three levels of DSL service in Grand Haven, according to All Home Connections. The best level to choose depends upon the tasks staff will use it for and the number of Internet-connected computers in the building. Some telephone companies offer discounts on the combined purchase of DSL, telephone and satellite TV service.
Cable
Companies with cable TV wiring in their buildings typically have the ability to use cable Internet connections. USDirect.com indicates that Comcast offers high-speed Internet access in Grand Haven, among other cable-based services. Businesses which subscribe to cable TV for customer use (motels, restaurants, etc.) can ask about combining the two services for a lower rate. Telephone communication is also possible via cable, although it may not prove reliable enough for business use.
T1
Another type of high-speed Internet access used by some medium to large sized businesses and government facilities is the T1 connection. This option supplies a dedicated Internet connection for the business, but it proves costly to set up and subscribe to. T1 service is available in Grand Haven, according to WMIS Internet. Businesses can choose one of several different speed levels.
Others
Satellite high-speed Internet is generally available anywhere the sky remains unobstructed, but it usually doesn't offer the most economical method for businesses in populated areas. Another alternative, ISDN (Integrated Services Digital Network) runs significantly faster than dial-up but not as faster as DSL or cable. The connection will become very slow if a network splits it among more than two or three computers. 128k-ISDN-Access.com indicates that Eskimo North Internet Access and Hosting provides an ISDN access number in Grand Haven, Michigan. WMIS Internet in nearby Grand Rapids also offers ISDN service.
Photo Credits
Digital Vision./Digital Vision/Getty Images