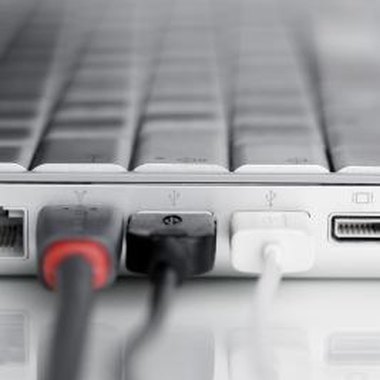 Several companies provide high-speed Internet access in Woodbury, Minnesota. You have a number of options for service packages, whether you want to bundle your Internet service with a cable and landline phone connection, or simply want to be able to get on the Web as quickly as possible from the comfort of your home.
Comcast
Comcast provides several options for high-speed Internet bundled with home telephone and cable service. Year-long contracts that include Comcast's PowerBoost technology will give you download speeds up to 15 megabits per second. After the 6-month introductory period, monthly fees go up to an amount that depends on location and other services included in your bundled service.
Qwest
As of June 2011, Qwest's bundled high-speed Internet services start at $14.95 a month for 12 months, which includes download speeds of up to 1.5 megabits per second (Mbps). For $19.95 a month, Qwest offers Woodbury residents access of up to 7 Mbps, which is better for those who download large files. Qwest bundles Internet access with land-line phone service for local and long-distance calling.
HughesNet
HughesNet offers Woodbury residents a variety of satellite-based high-speed Internet package deals. HughesNet's prices range from $59.99 to $349.99 a month as of June 2011. For $59.99 a month, HughesNet's most basic package offers download speeds up to 1 megabit per second (Mbps) and upload speeds of up to 128 kilobits per second (Kbps). The ElitePremium package offers users download speeds up to 5 Mbps and upload speeds of up to 300 Kbps.
More Information
For more information, inquire at Woodbury City Hall between 8 a.m. and 4:30 p.m. Monday through Friday. Woodbury City Hall is located at 8301 Valley Creek Rd., at the intersection with Radio Drive. Call City Hall at 651-714-3500 or send an email inquiry to woodbury@ci.woodbury.mn.us. Your local administration monitors and regulates Internet service providers to prevent certain companies from monopolizing the market.
Photo Credits
Jupiterimages/Polka Dot/Getty Images