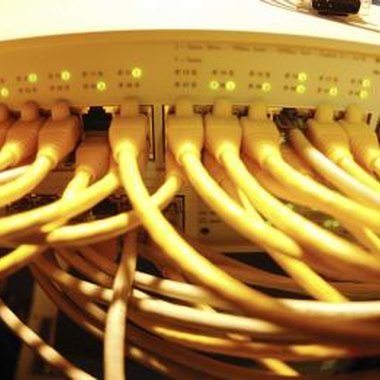 High-speed Internet, also called broadband, is Internet access with at least 4 Mbps of data transfer per second, according to the FCC. High-speed Internet allows users to connect to and surf the Web more quickly than its dial-up service counterpart. In Rio Hondo, Texas, multiple Internet Service Providers offer citizens high-speed Internet access. Each ISP offers consumers different high speed choices, packages and speeds.
AT&T;
AT&T; offers Rio Hondo residents access to high speed Internet service with multiple packages and speed options. Basic packages start at $15 per month and range upwards to $43, at the time of publication. AT&T;'s "Elite Internet Package" offers subscribers 6.0 Mbps speed and is roughly 100 times faster than the standard 56 kbps. All AT&T; packages come with 11 unique email addresses and allow for Wi-Fi access if the customer has the necessary equipment. A home phone plan with AT&T; is not required, but Internet service without an AT&T; line will cost an additional $5.
HughesNet
HughesNet is a satellite-based ISP that offers service packages ranging from $60 to $110, at the time of publication. Speeds range from 1 to 2 Mbps download and 200 to 300 kbps upload. Equipment and installation from HughesNet is free but requires a one-time, upfront $99 activation fee and a lease. Customers can purchase the required equipment for $200. HughesNet access includes 5 unique email addresses and a 24-month warranty on equipment. Customers will need to install satellite dishes on their homes to receive service.
Time Warner Cable
Time Warner Cable sells high-speed Internet access to Rio Hondo residents and offers the fastest service available. Depending on the package bought, customers can see anywhere from 3 Mbps to 20 Mbps download speeds. High speeds are good for large downloads and online multiplayer gaming. Time Warner Cable pricing varies depending on where the potential customer is located, but Rio Hondo residents can expect to pay $30 to $50 per month, at the time of publication.
WildBlue Satellite Internet
WildBlue provides Rio Hondo customers with a three-tiered pricing system that ranges from $50 to $80 per month, at the time of publication. WildBlue uses an orbiting satellite to send Internet service into customers' homes. WildBlue customers will need to install small satellite dishes on their homes to receive Internet service. Satellite installation is free, but customers must lease WildBlue's hardware. Satellite-based ISPs, like WildBlue and HughesNet, are good choices for consumers who live in remote areas and cannot receive cable or DSL service.
Photo Credits
Hemera Technologies/AbleStock.com/Getty Images