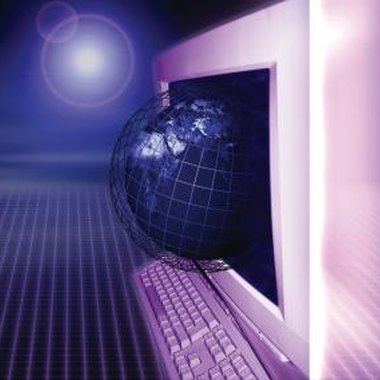 Five major options for high-speed Internet services are currently available to consumers in Jersey City, New Jersey. Most plans come with standard Internet access and optional features, including Internet security and remote online access. Each high-speed Internet service works in different ways and each have their own pros and cons.
Verizon FiOS
New Jersey is one of the many states where FiOS is currently being provided to residents. Three Internet plans are available, fast, faster and fastest. As of July 2011, service plans run from $49.99 to $139.95. The fastest plan available includes download speeds of 50 megabytes per second, or Mbps. Other features included in the three plans are Wi-Fi hotspot access, nine emails, 10 MB of personal Web space and remote e-mail access online from any personal computer.
Comcast
At the time publication, Comcast offers two cable Internet plans for Jersey City residents: Performance Xfinity Internet with download speed up to 15 Mbps at $19.99 a month and Blast Xfinity Internet with a download speed of up to 20 Mbps at $29.99 a month. Both plans offer the new innovations in high-speed Internet and feature PowerBoost for faster downloading and uploading of large files. Services also include seven e-mail accounts with 10 GB of storage space each, free comprehensive security and privacy protection, and SmartZone.
Time Warner Cable
Road Runner, the high-speed Internet service brought to Jersey City customers by Time Warner Cable, offers swift cable connection speeds. The standard download speed for Time Warner customers is 10 Mbps, while the fastest available is 15 Mbps. Time Warner Cable supplies wireless home networking for up to four computers. Additional features include a free Internet security suite and comprehensive support, multiple unique e-mail accounts, Road Runner messenger, personal home page space, a cable modem and professional installation options.
AT&T;
AT&T; offers high-speed Internet connections from 1.5 to 8 Mbps with upload speeds from 384 to 768 kilobyte per second. With its U-verse services available in Jersey City, AT&T; includes five high-speed Internet connection plans: pro for $38 a month, elite for $43 a month, max for $48 a month, max plus for $53 a month, and max turbo for $63 a month. Features include built-in wireless home networking capability, AT&T; Wi-Fi, mail plus, AT&T; messenger and the Internet security suite powered by McAfee.
Photo Credits
NA/Photos.com/Getty Images