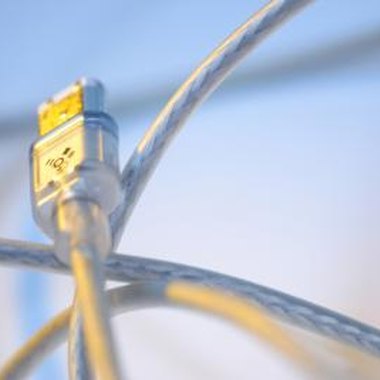 Outside of Detroit and its suburbs, most of Michigan is small towns with a few larger cities. Macomb County is a short drive north of Detroit and has many small and medium-sized towns. Because this area is densely populated, you can find a variety of high-speed Internet providers in and around Macomb County. These include big names like Comcast and AT&T;, regional providers like Wow! and even satellite broadband, which gives the more remote areas coverage. Compare prices and services and check all of your options before you decide on a high-speed Internet provider.
Comcast
Comcast cable offers high-speed Internet throughout much of the country, including Macomb County. Setting up Comcast Internet is easy and it does not even require a visit from a technician. They provide you with XFinity Internet setup kits that contain everything you need to connect. The choices for high-speed Internet services include a performance package with a regular price of $44.99 per month. This package includes 15 Mbps download speeds, security software from Constant Guard, SmartZone Communications Center with up to seven email addresses and up to 3500 games streamed from ESPN3. The economy package costs $41.95 and includes 1.5 Mbps downloads and 384 kbps uploads.
Wild Blue
Some more remote parts of Macomb, Michigan do not have many choices for high-speed Internet. Wild Blue is a broadband provider that offers high-speed support for most of the state, including Macomb County. Wild Blue offers a satellite connection with speeds that range from 512 kpbs for downloads and 128 kbps for uploads up to 1.5 Mbps and 256 kbps. The value plan costs $49.99 per month and includes five email addresses. It also features 24-hour support and offers free antivirus and antispyware software during your first year of service.
Wow!
Wow! is a regional cable provider that offers Internet and cable TV for Michigan, Indiana and Illinois. The high-speed packages offered in Macomb include: Xcite at 2 Mbps for $39.99 per month, Xpress at 8 Mbps for $49.99 per month, Xtreme at 15 Mbps for $59.99 per month and Xtreme Turbo at 15 Mbps download speeds as well as 2 Mbps upload speeds for $64.99 per month. On April 14, 2011, Wow! was recognized as a top Internet and cable provider by Consumer Reports.
AT&T;
AT&T; is known as the original wireless provider of the iPhone. Before that, they were a long distance provider and they also offer high-speed Internet through Dish Network. In Macomb, AT&T; offers a variety of high-speed internet options using Dish's DSL network. These options start with the U-Verse Internet Pro plan. This plan starts offers 3 Mbps download speeds and does not require a phone plan. The fastest speed is the U-Verse Internet Max Plus plan, which provides users with an 18 Mbps download speed.
Photo Credits
Hemera Technologies/AbleStock.com/Getty Images