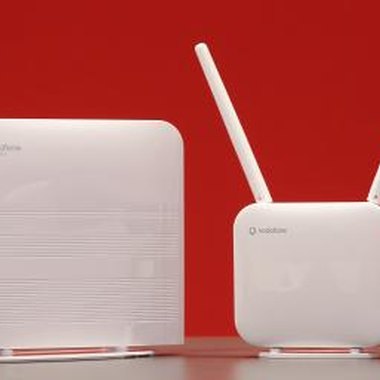 Imlay City, a municipality founded in 1850, is in the southern thumb area of Michigan. Midway between the two metropolitan areas of Detroit and Flint, Imlay City has a wealth of options when it comes to high-speed Internet. Imlay City residents can choose from DSL, cable, satellite dish, fiber optic and wireless access. Cable offers the most options while fiber optic has the fewest options.
DSL High-Speed Internet
AT&T; offers four DSL options to residents of Imlay City. These packages include download speeds ranging from 768 Kbps to 6.0 Mbps, a wireless router or modem and an Internet security suite. Frontier extended its DSL service to Imlay City in January of 2011. There are three levels of service, with download speeds ranging from 1 Mbps to 7.1 Mbps. Any package can be bundled with cable or phone services.
Cable High-Speed Internet
Comcast's cable Internet access comes with the feature PowerBurst. This feature allows for download speeds of up to 15 Mbps. Other features of its service include a security suite and a customizable Internet portal. Comcast offers several different packages that can include bundling with other services, such as cable and digital voice. Time Warner offers a cable high-speed Internet service called RoadRunner. The basic service starts at 7 Mbps and includes 10 email accounts and an Internet security suite. Customers also have access to special services from CNN and Realplayer. Charter is a reseller that offers cable high-speed Internet service in Imlay City. Its packages offer download speeds ranging from 128 Kbps to 5 Mpbs. The packages also include 10 email accounts and up to 20 Mb of web space.
Satellite High-Speed Internet
WildBlue offers satellite service in Imlay City. The service comes with free installation of a 26-inch satellite mini-dish and modem, email and Internet portal services and 24/7 live phone support service. The download speed is up to 1.5 Mbps. Fees include a leasing fee and a monthly service charge and contracts are for a minimum of 24 months. It is affiliated with Dish Network. HughesNet is another satellite Internet provider that services Imlay City. Download speed varies according to the package, with a range from 1 Mbps to 2 Mbps. HughesNet provides the equipment and installation at no charge. Packages also include 24/7 live phone support, personalized start page, up to 5 free email accounts and a 24-month equipment warranty. HughesNet is affiliated with DirectTV.
Fiber-Optic High-Speed Internet
Fiber-optic options are very limited in Imlay City as of May 2011. Verizon FiOS, the only current provider of pure fiber-optic service, is not available in Imlay City. AT&T; and Comcast have services that include a mix of fiber optics. AT&T; partially powers its AT&T; U-verse Internet service with fiber optics. Comcast's PowerBoost uses fiber-optic cables to provide boosts of speed.
Wireless
BigTube Wireless offers service in Imlay City and the surrounding areas. The company installs a transceiver and antenna outside your home and then runs a cable inside to a power brick, which connects to your computer or to a wireless router. There is an installation fee and a minimum one-year contract. BigTube Wireless provides two email accounts with the basic service and download speeds are up to 1.5 Mb.
Photo Credits
Sean Gallup/Getty Images News/Getty Images