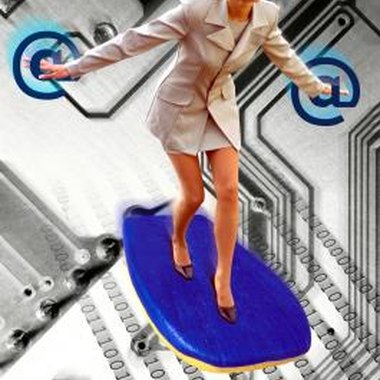 A small town located near Lake Michigan beaches, Fruitport, Michigan has its share of high-speed Internet options. The west Michigan township is 30 square miles and got its name from the fruit orchards where the original settlers made their fortunes. The remoteness of the township from major cities means that high-speed Internet options are limited, but there are still several choices ranging from DSL to wireless.
DSL High-Speed Internet
AT&T; offers DSL high-speed Internet access to residents of Fruitport. Its packages can be bundled with AT&T; U-verse and phone service. Internet download speeds range from 768 kbps to 6.0 Mbps. All packages come with email addresses and parental control options. Frontier also offers high-speed Internet service in Fruitport, Mich. Frontier's service includes email addresses and a personalized online portal. It can be bundled with DISH Network Satellite TV and Frontier digital telephone.
Cable High-Speed Internet
Any Fruitport home that is able to get Comcast cable is also able to get Comcast digital cable Internet service. This service has speeds outstripping both dial-up and DSL with download speeds ranging from 12 Mbps to 20 Mbps. The service also comes with virus protection software and a customizable Internet portal. Comcast Internet service can be bundled with cable television and digital voice services. Charter is another cable service that offers cable television, high-speed Internet and digital phone service. Its high-speed Internet access has speeds ranging from 1 Mbps to 60 Mpbs. All packages come with 10 email addresses, 20 MB of web space, a security software suite and an ESPN3 subscription.
Satellite High-Speed Internet
WildBlue satellite service is able to reach all of Fruitport. To subscribe to its service, customers must agree to have a 26-inch satellite dish installed on their roof or at the south side of their home. The speed varies from 512 kbps to 1.5 Mbps. The service also provides five to 10 email addresses, spam and virus filtering, technical support and a WildBlue.net home page. HughesNet also services Fruitport, Mich. Its basic service starts with download speeds of 1 Mbps and goes up to 2 Mbps. HughesNet service requires customers to have a satellite dish installed on their roof or outdoor wall. It offers email addresses, virus and spam filtering, a customized start page and 24/7 technical support.
Wireless High-Speed Internet
Copper.net offers wireless high-speed Internet access to some areas of Fruitport, Michigan. For those customers within the satellite range, Copper.net offers email addresses, pop-up protection and a spam blocker. It also guarantees that it will not share its customer's browsing habits or private information with anyone. EarthLink's satellite service in Fruitport offers download speeds of up to 5.0 Mbps. Its service comes with five to 10 email addresses and has download allowances of 200 MB to 400 MB.
Photo Credits
John Foxx/Stockbyte/Getty Images