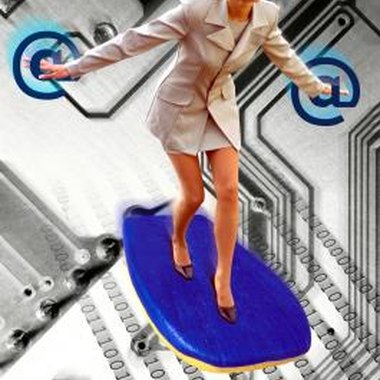 The unincorporated town of Elba, Michigan is near the center of Lapeer County, one of five counties in the southeastern part of the state that form a peninsula jutting into Lake Huron. Because it is in a rural county, high-speed internet options are limited in Elba, but residents do have options.
Charter Cable
Lapeer County and the town of Elba are served by Charter Cable, which offers stand-alone Internet service at speeds ranging from 1 Mbps up to 60 Mbps. For most users, a speed of 12 Mbps is suitable for downloading videos and music, along with very large text files. Charter Cable allows users to bundle Internet service with home telephone and cable television packages.
AT & T
AT&T; provides phone and high-speed Internet service in Elba and Lapeer County. You can get a DSL Internet connection separate or in a bundled package with home or cell phone service. DSL, or digital subscriber line, utilizes existing phone lines but does not affect landline phone service. AT&T; Internet customers can also use the company's extensive network of Wi-Fi hotspots around the country.
Dish Network
Both DirectTV and Dish Network are available in parts of Elba and Lapeer County. DirectTV partners with AT&T; to provide high-speed Internet service. Dish Network partners with various cellular providers, but where cellular signals are too weak to be reliable, Dish offers satellite-based high-speed Internet. Installing satellite Internet requires professional installation of a separate dish in addition to the one you use for your television. Dish does offer some discounts when phone and televisions services are bundled with Internet.
Wireless Cards
Most of the larger cellular telephone providers offer wireless cards, or mobile wireless Internet service. These devices, which plug into a USB port, connect to a cellular tower signal to access the Internet. These cards have the advantage of working wherever the provider has a strong signal. The disadvantage is that they are usually pricey and require a service commitment like a traditional cell phone. If you are primarily going to use it at home, make sure the cellular provider has a strong signal in Elba.
Photo Credits
John Foxx/Stockbyte/Getty Images