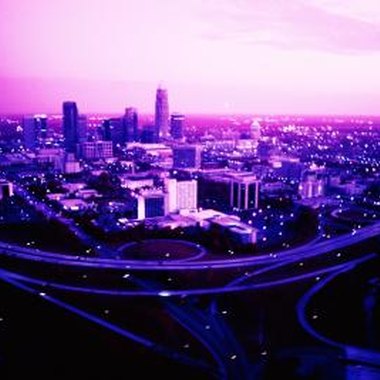 A popular vacation destination, North Carolina is also known for several prestigious universities and research centers. Citizens across the state typically have several options for bringing high-speed Internet into their homes and businesses. Larger cities like Charlotte and Raleigh are home to several competing Internet service providers, while in the rural areas the market is more limited. Virtually every North Carolinian has at least one option for accessing high-speed Internet.
Time Warner Cable
Time Warner Cable offers television and high-speed Internet services in dozens of locales throughout North Carolina. Road Runner Internet packages vary in speed from 768Kbps up to 30Mbps. Wideband Internet, available in select areas, provides download speeds of 50Mbps. Time Warner Cable also offers wireless Internet service for certain locations. Every Time Warner subscription includes Internet security software and free technical support. Parental controls are available to ensure children browse the Internet safely.
Cox
Residents of Knotts Island, North Carolina can subscribe to Cox cable Internet service. Their Essential Internet package offers speeds of 3Mbps, enough for chat, email and casual browsing. On the other end of the scale, Ultimate Internet provides top speeds of 50Mbps. All subscriptions include free access to ESPN3, personal email accounts and an Internet security center from McAfee. Customers who purchase service online receive an automatic discount. Bundling services together can result in even more discounts.
Windstream
High-speed Internet packages from Windstream are available at three speed levels: 3, 6 and 12Mbps. New subscribers receive one free month of McAfee Internet protection. For an additional monthly fee, subscribers can remotely back-up important data. Windstream also offers home networking support for a one-time equipment fee. Technical support personnel are ready to address glitches and answer questions at all times. Customers are encouraged to bundle phone and Internet service, both for cost savings and simplified billing.
Cricket Wireless
Residents of the major cities in North Carolina -- Charlotte, Raleigh-Durham, Greensboro and their suburbs -- can take advantage of mobile broadband through Cricket Wireless. Cricket's wireless Internet plans offer various levels of monthly usage. The Basic plan allows for 2.5GB of usage, while the Premium plan offers 7.5GB. All of Cricket's plans provide maximum speeds of 1.4Mbps. Geographic and other limitations will impact network performance at certain locations.
HughesNet
North Carolina residents who can't receive DSL or cable Internet can still receive high-speed service via satellite. HughesNet satellite Internet service is available to anyone with a clear view of the southern sky. Speeds for the Basic package top out at 1Mbps. For those needing more bandwidth, the Power 200 package provides 2Mbps. Daily usage limits apply to every HughesNet account. For subscribers with technical difficulties, live support is available at all times.
Photo Credits
Thinkstock Images/Comstock/Getty Images