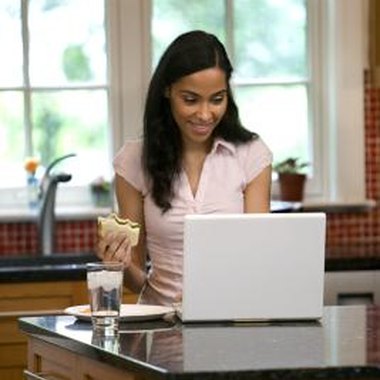 Because Unionville, Virginia, is a rural area, finding a high-speed Internet provider can be a challenge, but is possible to get online, even in the country. Thanks to technologies such as satellite Internet and mobile broadband, you can surf the web from even the most remote places. Speeds will vary, however, and it can sometimes be even slower than dial-up.
Comcast
Comcast is the local cable company and offers Xfinity Internet service to the area, though it may not be available where you live. Call for specifics, especially if you are in more a remote part of town. Because the cost of making cable service available for the first time is high, many companies, such as Comcast, choose not to spend the money because they would never see enough of a return on their initial investment. Its Internet offerings include four packages at varying speeds: Economy, Performance Starter, Performance and Blast. Comcast claims to be faster than DSL, which is not available in the area anyway, and its main competition comes from two major satellite Internet companies.
HughesNet
HughesNet is a satellite Internet service that uses a mini-dish and modem to connect to the Internet. You must have a clear view of the southern sky in order to use it. The company has three plans to choose from. The Basic plan includes five email accounts, 1 Mbps download speeds and 200 Kbps upload speeds, as well as a 200 MB daily download allowance. The Power 150 Plan also has five email accounts, with slightly faster speeds. Download speed is 1.5 Mbps and upload speed is 250 Kbps with a daily download allowance of 300 MB. The fastest package available is the Power 200 plan with 10 email addresses, download speeds of 2.0 Mbps and upload speeds of 300 Kbps.
Wild Blue
Wild Blue is a satellite Internet service that is many times available with DirecTV. It offers three packages. The Value package has download speeds of 512 Kbps and upload speeds of 128 Kbps, as well as five email addresses. The Select package offers faster access with download speeds of 1 Mbps and upload speeds of 200 Kbps, and five email addresses. Finally, the Pro package includes download speeds of 1.5 Mbps, 256 Kbps upload speeds and 10 free email addresses. All packages have a monthly threshold; you can only download or upload a certain amount of data within 30 days or you will be charged. Like HughesNet, you connect with a mini-dish and modem, and you must have a clear view of the Southern sky. You can rent your equipment or buy it.
Other Potential Providers
If cell coverage is reliable enough, you can look at purchasing a mobile broadband service through your cell phone company, though speeds may be as slow as dial-up and constantly change. Dial-up is always available at a low cost. You get what you pay for though, and you won't be able to do things like download music and watch streaming video.
Photo Credits
David Sacks/Lifesize/Getty Images