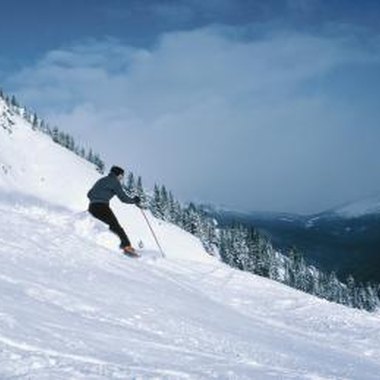 Many activities are within the surrounding area of Hickory Run, Pennsylvania. Beautiful state parks, lakes and ski slopes galore abound for outdoor adventurers. Lehigh Gorge and Hickory Run State Parks offer many summer activities such as fishing, hiking and swimming. Golf lovers can hit the courses while taking in breathtaking views of the mountains of northeastern Pennsylvania.
Hiking and Biking
Hickory Run State Park offers hikers 43 miles of trails, although biking here is prohibited. The scenic paths lead through blooming mountain laurel and rhododendron during the summer, while mid-October boasts the height of Pennsylvania's autumn foliage. Boulder Field, a site of massive stones left by receding glaciers 20,000 years ago, is also a popular destination in the park. Hikers and bikers both can enjoy 20 miles of abandoned rail trails that follow the Lehigh River in nearby Lehigh Gorge State Park.
Water Ways
Sand Spring Lake at Hickory Run State Park has areas for swimming and even a sandy beach for sunbathing. Visitors angle for brook and brown trout from the streams and lake within the park. Francis E. Walter Dam, about 20 minutes from Hickory Run, allows boating and fishing, although swimming is not permitted. The Lehigh River, accessible through Lehigh Gorge State Park, is known for its bounty of trout and pan fish. The Gorge also boasts white water rafting, kayaking and canoeing.
Winter Sports
Thirteen miles of trails within Hickory Run State Park are blazed with blue markers for cross-country skiing and orange markers for 21 miles of snowmobile trails. When conditions permit, Sand Spring Lake is available for ice-skating. Pennsylvania ski resorts, such as Jack Frost and Big Boulder (jfbb.com), Camelback (skicamelback.com) and Shawnee Mountain (shawneemt.com) are within a 30-minute drive from Hickory Run.
Golfing
Just outside of Hickory Run, golfers can choose from two different locales: Mountain Laurel Golf Course (mountainlaurelgolf.com) and Edgewood in the Pines Golf Course (edgewoodpinesgc.com). Both courses are set in the scenic vistas of mountains and the ever-changing foliage of Pennsylvania. Disc golf is offered at both Hickory Run State Park and Francis E. Walter Dam.
Photo Credits
Hemera Technologies/AbleStock.com/Getty Images