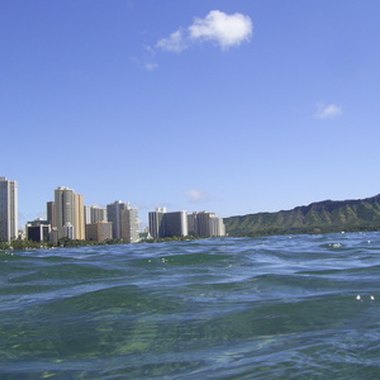 Being posted at Hickam Air Force Base in Oahu does have its advantages. First there is the weather, followed closely by the eye-popping scenery. The idea of visiting nearby Waikiki on a whim is also appealing. For everyday living, staying at a hotel or apartment nearer to the base makes more sense. Accommodations near Hickam AFB offer military personnel and their dependents an affordable and convenient lodging option.
Ohana Honolulu Airport Hotel
Located just off of Highway 1 and only a mile from Hickam AFB, the Ohana Honolulu Airport Hotel is the closest available lodging. The moderately priced property, part of the Ohana hotel chain, offers military family discounts, a rental car desk on-site and a complimentary shuttle to Honolulu International Airport. The Ohana Honolulu also allows pets, which is a big plus if you are being transferred to Hickam and don't want to leave your best four legged friend behind. A daily pet service fee is charged. Take a dip in the on-site pool, entertain your kids at the playground then buy some snacks at the Ku'ai Market and have an impromptu lunch at the hotel's picnic area. If you'd like to explore the island, you are only nine miles west of Waikiki Beach and six miles from the USS Arizona Memorial.
Pacific Marina Inn
Pacific Marina Inn, a Castle Resort property, is another airport hotel option and less than two miles from Hickam's main gate. The hotel rooms frame a palm fringed inner courtyard with a swimming pool and sun deck. Relax on a lounge chair or pick a table shaded by a bright aqua colored umbrella. Have a drink and some pupus (Hawaiian for appetizers) at the Canoe Hut Lounge or a meal at Lance's Kitchen Restaurant, both on-site. Take a walk next door to oceanfront Keehi Lagoon Park or venture into Waikiki, only eight miles away. Military rates are offered.
Harbor Shores Apartment Hotel
For longer stays you might feel more comfortable in an apartment like setting. The Harbor Shores Apartment Hotel sits on the edge of Pearl Harbor in the residential area of Aiea. This is the northern end of Pearl, closer to the USS Arizona Memorial and its companion the USS Missouri but still only six miles from the main gate at Hickam AFB. Take a morning walk along Pearl Harbor's undulating shoreline to Neal S Blaisedell Park, do some shopping at Pearl Ridge Shopping Center, one of Oahu's largest malls and then come back and take a swim in the outdoor pool. Grill some steak or fresh seafood at the hotel's barbecue area or fix a meal in your fully equipped apartment kitchen. Neighborhood restaurants are waiting if you'd rather dine out. Military rates are offered.
Harbor Arms Hotel
Combining the best of both worlds, the Harbor Arms Hotel is part hotel, part condo. One and two bedroom suites offer kitchenettes or larger, full kitchens, giving you the flexibility to eat in and offer the extra space of condo living. Daily maid service, free parking and a sizable swimming pool and sun deck area add the services of a hotel. Only six miles from Hickam AFB in the town of Aiea, the Harbor Arms Hotel is three blocks from Pearl Ridge Shopping Center and only two blocks from Pearl Bay's jogging path. Military rates are offered at this three story residential low rise.
Photo Credits
Diamondhead from Water image by Rick Chesler from Fotolia.com